Dog Saves Tot from Fiery Inferno – VIDEO
Tuesday, October 7th, 2008 at 7:19 am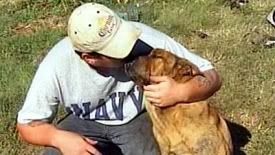 If not for their family dog, Buddy, Jason and Heather Breiding of Paducah, Kentucky, may have lost one of their most precious treasures, their one-year-old daughter, Samara.
Jason was cooking when a grease fire broke out. All he thought about was getting the fire extinguished since it didn't seem too bad.
"I was trying to do anything I could to put it out, that's what was going through my mind," said Jason Breiding.
As Jason was fighting the fire, his wife, Heather, grabbed their three-month-old son and got him outside to safety. Jason thought that their daughter, Samara, was also with his wife and son when went to escaped the house but she was still in the now blazing house and so was their family dog, Buddy.
That's when Buddy became the family hero.
"He grabbed the back of the diaper, put his teeth through the back of the diaper and didn't even touch her, and pulled her into the living room," said Jason.
Jason scooped up Samara and then holding his daughter tight, watched as their home burned. Nothing was able to be saved, but Jason has his wife, and two kids and a dog, he's says he's indebted to. He's already got his kids names tattooed on his body, and says the family dog might be next.
"I wasn't gonna but I think I will, he's a part of the family now," said Jason.
And yet once again, a canine companion shows their love and loyalty beyond measure! Way to go, Buddy!!
Dog Saves Baby from Burning House
Email This Post
Like this post? Subscribe to my RSS feed and get loads more!