Dog Shooting Mayor Facing Trial for Felony Animal Cruelty
Thursday, July 2nd, 2009 at 7:29 am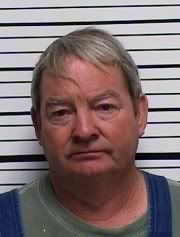 I guess McCune, KS, Mayor, Don Call, initially thought he was probably going to be able to just walk away after shooting and killing 2 of Duane Wahl's dogs in February.  He had threatened to shoot them if they were ever running loose and a child said they were chasing him so the father, instead of calling the police or animal control, called the Mayor.  Mayor Don Call grabbed a 9mm semi-automatic rifle, drove to the area and while driving around the block 3 times, firing each of the 3 times he drove by the home, killing the two dogs who were safely chained up in the owners yard at the time.
"I told him that if he did not want to take care of the dogs, that I was going to shoot them the next time," Call said regarding Wahl's dogs. "I said that I was through playing this game and he was going to take care of them and that was back in January."
"A witness says he drove around the block, shot a few more rounds, drove around a third time, came back and shot a few more times," said Crawford County Sheriff Sandy Horton.
On Monday in Crawford County District Court, after a preliminary hearing at which Call pleaded not guilty, District Judge Don Nolan said there was enough evidence and bound him over for trial.
"That was an act that took some degree of time," Nolan said. "If you acted with maliciousness, that is to be determined by trial."
"A 9mm rifle, the bullets are going to travel a long way, and shooting that many rounds inside a community is to me, going a lot overboard," said Sheriff Horton.
The Crawford County Prosecutor charged the mayor with two felony counts of cruelty to animals and one misdemeanor count of criminal discharge of a firearm at the time and an arrest warrant was issued. Call turned himself in.
Crawford County Attorney Michael Gayoso said that the charges were filed because the prosecutor's office believe that Call acted maliciously in the shooting of the dogs.
Public opinion has been strong on both sides of the issue. Shortly after the shooting at a town meeting, about a dozen residents gave Call a standing ovation and after the preliminary hearing almost a dozen supporters showed up.
"We all should be proud we have a mayor like Don Call that will take care of us and protect our kids," Shirley Showalter said.
Sheriff Sandy Horton says the dogs were shot 7 times with the high powered rifle. There were also holes in the fence and house from where his shots missed their intended targets.
Although Call did not run for re-election in April, he was elected anyway by write in votes, a total of 98. The only other person running only got 36 votes.
Now, obviously I don't condone irresponsible dog ownership and there had been complaints about Wahl's dogs in the past but that give no excuse to maliciously and cruelly gun down two defenseless animals who cannot be held responsible for their owner's actions, or lack thereof. At the time, the dogs were a threat to no one! What if there had been children or other people in the area while this idiot was firing?? The two dogs may not have been the only victims. I guess those who are supporting his actions haven't bothered to think about that. I'm glad to see that the Sheriff, prosecutor's office and judge are all taking this seriously. He needs to be punished!
Email This Post
Like this post? Subscribe to my RSS feed and get loads more!