Dog Shoots Man
Wednesday, August 1st, 2007 at 12:30 pm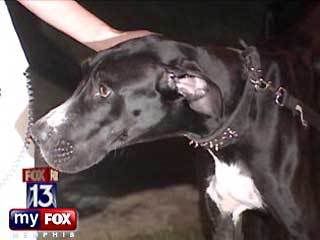 From Memphis, TN, a Great Dane named King George shot his owner in the back. the unnamed 21 yr old man is in the hospital in critical condition after being shot. A loaded .22 pistol was knocked off a table by King George when it accidentally went off wounding the man.
"I knew he was smart, I didn't think he was that smart," the victim's fiancee, Miesha Lucas told MyFOXMemphis.com. "He was always protective. I didn't think he would be like that."

Police refused to name the victim as they do not plan to file charges in the shooting, which they've ruled as accidental.

Lucas told MyFOXMemphis.com that she fears what her fiance will do to the pet once he gets out of the hospital. (My FOX Memphis)
See the VIDEO
I can only hope that nothing happens to the dog and I have a feeling the people will be keeping an eye out especially after the fiancee's comment.
Honestly, this would be a terribly funny story if not for the fact that a person is laying in the hospital right now and I have no doubt there are quite a few people having a bit of a chuckle over it. I do hope that the man recovers fully, learns not to leave loaded guns around and has a good laugh over this whole incident in the future. And that King George lives a long and happy life! 😀
Email This Post
Like this post? Subscribe to my RSS feed and get loads more!