Dog Shot and Killed, Family in Shock
Tuesday, August 28th, 2007 at 7:40 am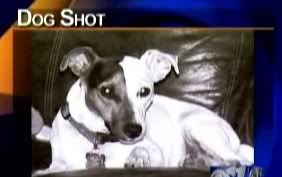 A Grapeville, TX family is broken hearted and facing a great loss after they found the body of their little 2 yr old Jack Russell Terrier, Squirt, this weekend.
Melinda Davis, Squirt's owner, said that the little dog must have found a way to get out of their backyard into the neighbor's where he was found shot, just outside their fence, with what the Davis' believe was a high powered pellet gun.
"They said that it [the bullet] perforated the small intestine approximately in five places, which means the pellet actually was enough to it that it ricocheted inside of her body," said Squirts owner Trey Davis.
Neighbor Nick Tiootta says the crime is simply horrific. "Shooting someone's dog, in their backyard, is a pretty barbaric act," he said.
"That little dog has given this family more joy than just about anything," Trey said.
The horrific crime has so stunned the neighborhood that they have donated $250 toward a reward to help find the little dog's killer.
If you have any information about this crime, please contact the Grapevine Police Department – (817) 410-8127 or you can email them – HERE
Source – CBS 11 TV
Email This Post
Like this post? Subscribe to my RSS feed and get loads more!