Dog Shot, Left Tied in Woods to Die a Cruel Death
Tuesday, July 24th, 2007 at 12:11 pm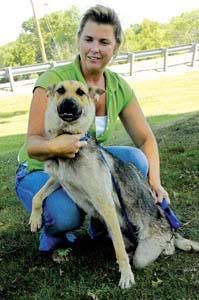 The German Shepherd, dubbed Mindy, was shot and apparently tied to a tree and left deep in the woods to die of her wound and starvation. If not for the luck of someone hearing her cries, the depraved individual who did this would have succeeded! As is was the wound to her leg where she was shot, was infected and the leg had to be removed and she wasn't much more than skin and bones when found.
Franklin County Animal Control Supervisor Jarrett Broy has seen many instances of animal cruelty over the years, but perhaps none delivered with such malice aforethought: A German Shepherd dog shot, tied to a tree located far into the woods and left without food or water during the hottest part of the summer.

"There is no doubt that whoever did this wanted this dog to die," Broy said.

The dog, given the name Mindy by her animal control rescuers, was discovered Wednesday by a man working the oil drills on Mine 24 Road, south of Licata Road in rural Franklin County.

"He thought he heard a dog howling so he went off into the woods to look," Broy said. "He called us as soon as he found her."

The dog, approximately 3 years old, was "in very poor shape. She'd been shot in the leg and it was infected. She was really thin – just about starved to death. She was so hungry and thirsty. That was the hottest day of the year so far, and if it weren't for some of the rain we got, she'd be dead," Broy said.

Dr. Roger Clark, who provides veterinary services for the shelter, determined the dog could be saved but her leg would have to come off.

"The bone in her leg was shattered. The doctor was worried about a bone infection," Broy said.

Within hours of the amputation, Mindy was up and around, said Dottie Darr, an animal caretaker at the Franklin County facility.

"She is such a sweet dog," said Darr who, to lessen the chance of infection to Mindy, is keeping the animal at her home instead of the shelter. "She loves playing with my kids and going for car rides. She has to have been someone's pet at one time. How she got to this point in her life, I don't know."

Broy said his office received reports of the stray animal in the rural neighborhood a week prior to the cruel discovery.

"We'd gotten a couple of complaints about her, but every time we went out, we couldn't find her," he said. "But why someone would do this, I don't know. It's inhumane. Whoever shot this dog and left her to die, and it was probably an adult, has the potential to do a lot worse."

Broy said prosecuting cases of animal cruelty is difficult without witnesses to the crime. He asked that anyone with information about the dog or the crime call his office.

"I believe our state's attorney would prosecute this case, but unless someone admits to it or a witness comes forward, I doubt anything will happen," Broy said.

Broy said he has already received calls from people interested in adopting the dog.

"She's a really good dog and she needs a good home," he said.

For more information, call Franklin County Animal Control at 439-9197. (The Southern)
Do you know anything about this? Do you know what kind of person it take do to something so cruel to an innocent and defense animal? If you know anything, anything at all, please call the authorities!! Who knows what a person like this could do next? This dog was lucky, the next victim may not be!
Email This Post
Like this post? Subscribe to my RSS feed and get loads more!