Dog Shot with Arrow Succumbs to Injury, Dies
Friday, March 28th, 2008 at 7:30 am
Conan, a 150 lb Mastiff belonging to Liam and Amanda O'Hara, was shot in the chest with a razor tipped hunting arrow at his home in the 4200 block of Second Avenue Northeast, Wellington, WA on Tuesday night/Wednesday morning. There were hopes that Conan, would survive, but sadly he didn't make it.
"He had some internal bleeding in his lungs, and he couldn't make it," said Amanda O'Hara. "This was an intentionally cruel act toward our dog. It's horrible."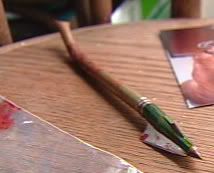 Initially they thought that the arrow missed his heart and lungs but when vets went to remove the arrow they found that the razor bladed hunting tips pierced his lung. There were able to remove the shaft but not one of the razor sharp blades which had broken off in his lung. The performed CPR Thursday but were unable to resuscitate the big dog.
Conan is described as a big lovable dog who sometimes barks or will escape his yard but there's never been any complaints from neighbors. Whoever did this had to shoot over a 6′ fence aiming downward to strike the dog.
"They came at a downward angle and to get it in the alley area, you had to have a vantage point of being standing on top of something," said O'Hara.
The arrow that pierced Conan was not the only arrow shot either. Several others were removed from where they were embedded in the outside of the home and turned over to authorities.
Now O'Hara has to worry about his other dog, Jezebell and his two children. He's also warning his Wallingford neighbors to beware and is handing out fliers.
"I want people to know what happened and whoever did it can see what they did," he said.
Calling the shooting "a horrific act of animal cruelty," Seattle Animal Shelter enforcement supervisor Ann Graves said investigators need anyone with information about the attack to come forward. She said neighbors who saw unusual activity the night Conan was shot should contact authorities.
"We're going to need the public's help on this," Graves said. "Somebody knows who did this."
The Humane Society of the United States is offering a $2,500 reward for information resulting in the arrest and conviction of the person(s) responsible for the shooting.
If you have information you are asked to call (206)386-4288.
Email This Post
Like this post? Subscribe to my RSS feed and get loads more!