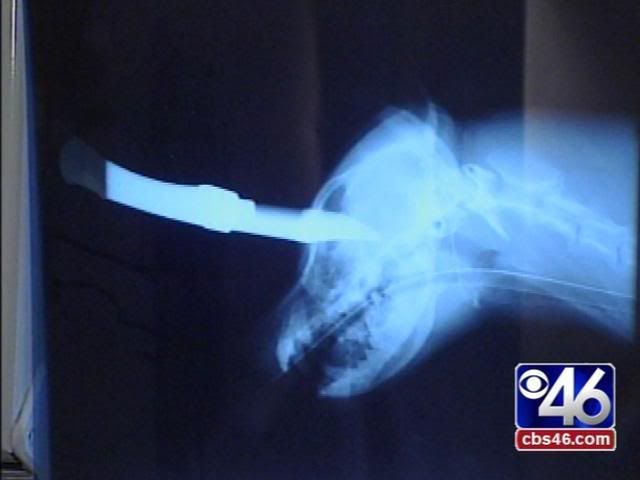 Cory Madrano of Arthur Langford Jr. Place in Atlanta, Georgia came upon a horrific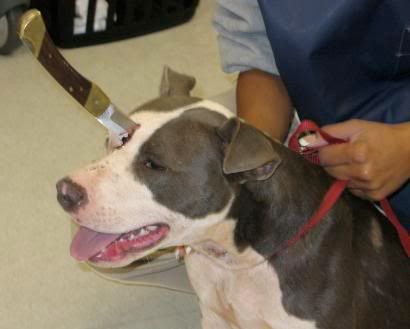 sight, his sweet 18 month old pit bull, Mama, in his front yard, with a knife embedded in her head!
The dog's owner took Mama to the humane society vet clinic after finding her with the hunting knife buried about three and a half inches into her head, he told workers he had no idea how the knife got there or who could do such a thing!
As you can easily see from the x-ray, the knife was well embedded in her skull, just short of reaching her brain.
Dr. Paula Murray, who performed the 45 minute surgery to remove the embedded knife said, "We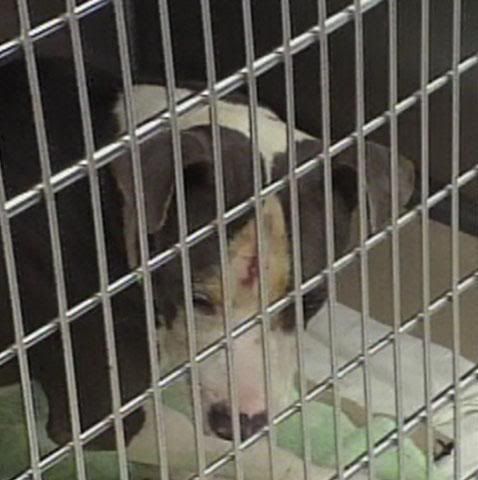 were finally able to get it out, which is good.We kind of feel like most of it is just in the bone and maybe in the sinuses."
"Actually it was embedded in skull," she said. "We had to be very gentle about working it out, because we didn't want to twist it, or cause further damage."
Mama was up and alert within minutes of having the blade removed and is stable condition at the clinic. She's expected to make a full recovery. One clinic worker said that they had seen cruelty cases before, but nothing like this!
"On a scale of 1 to 10, I would say she's 10 on the scale of being lucky," Murray said. "There is the possibility of swelling, but hopeful we'll be able to combat that and she'll do OK.
Humane Society President Carl Leveridge says veterinarians want to observe the dog for a couple of days. Workers there are calling her "Lucky."
Mama does seem to remember what happened to her and they hope she never will.
Madrano said that both of his dogs escaped early Wednesday morning, breaking out of their enclosure, this shortly before police got a complaint about dogs running loose. Madrano found Mama shortly there after with the knife embedded in her skull.
The knife is now a key piece of evidence in the investigation in this horrific cruelty case. The Humane society is offering a $1000 reward for information leading to the arrest of the sick and twisted individual who did this.
"If anyone knows anything about this we just hope that they come forward," Murray said. "Whoever inflicted this horrible act on this poor helpless animal hopefully they'll be caught."
VIDEO: Pit Bull Stabbed With Hunting Knife