Dog Starved, Owner Charged, Dog Needs a New Home
Wednesday, March 12th, 2008 at 6:54 am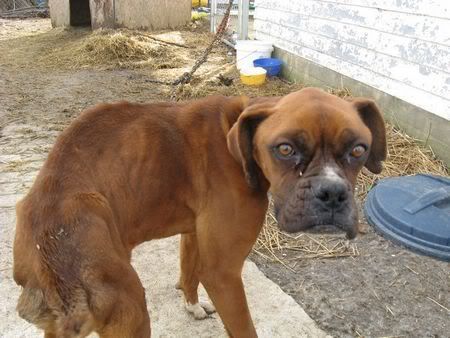 Meet Eve; this sweet 2 year old Boxer was found starved and emaciated and left outside at her owner's home in the 1100 block of Goodman Avenue, Butler County, Ohio. Eve's owner and the person responsible for this cruel neglect, Tera C. Minyard-Doane, has been arrested and charged with animal cruelty and faces jail time.
Eve is almost 20 lbs underweight, her normal weight should be in the 60 lb range. "For a dog that size, that's a big amount to be underweight," Leland Gordon, executive director of Butler's Animal Friends Humane Society said.
And now, to top things off, two more dogs, found to belong to Minyard-Doane, were found abandoned at a Millville gas station so she's also being charged with additional counts of animal cruelty as well as animal abandonment.
Eve is slowly recovering at a local veterinary clinic and when she's healthy, she'll be available to be adopted to someone who will love and care for her. If you're interested in making this sweet girl a part of your family, call the Animal Friends Humane Society in Trenton 513-867-5005.
As for Tera C. Minyard-Doane, she be getting her day in court and possibly facing jail time. The cases will be heard this week in Hamilton Municipal Court and Butler County Area II court.
Source – The Enquirer
Email This Post
Like this post? Subscribe to my RSS feed and get loads more!