Dog Starves to Death Abandoned in Closet – PETITION
Tuesday, August 19th, 2008 at 6:47 am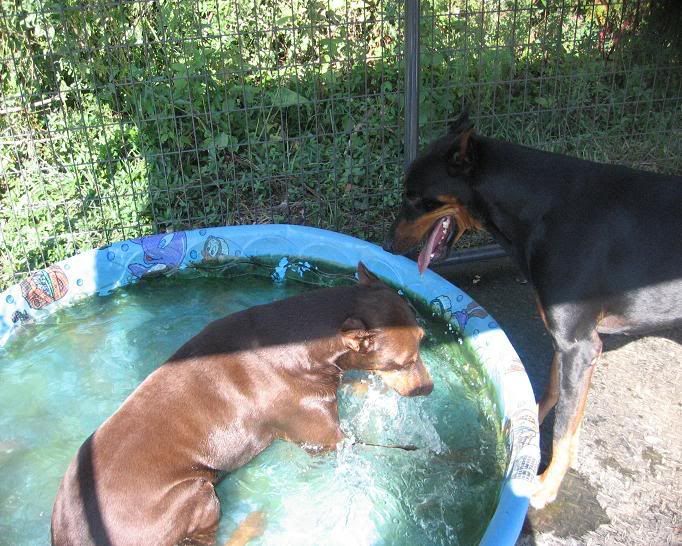 Omar was a beautiful 3 year old Doberman who had been well loved and cared for. Sadly, his owner could not take care of him but want to do the best for him so she found what she thought was a wonderful home for him.
Things get a little murky after that. It's not really known yet if the person gave Omar away or exactly what happen. What is known is that this sweet and beautiful dog wound up in the hands of Tyrell Suggs of Smyth County, Virginia.
On July 2, 2008, police investigated due to a complaint of a foul smell coming from Suggs' apartment. When they got in, what they found was a horror.
Suggs had leashed Omar and tied him in a closet and closed the door on him. He had starved to death, alone and abandoned, in the small dark closet that had become first his prison, then his coffin after weeks without food or water.
Omar didn't go easily either. He'd clawed the door in desperation, chewed through the leash, pieces of which were found in his stomach during the necropsy.
Suggs' excuse? He was in jail. What utter BS!!
Like this human piece of trash couldn't have told someone, anyone in the weeks that he had the chance about his poor dog left abandoned in the dark hole of a closet. He couldn't tell the arresting officers? Neighbors? Anyone at jail? He could but he didn't! He left that poor dog to die a horrible and painful death.
Now Suggs will be in court on September 19 in Smyth County. Smyth County has had only a few successful animal cruelty prosecutions since 2008. Most of the time they don't even bother because animal cruelty is not a priority to prosecute.
Caroline Watembach, founder of Saving Furry Friends, Inc., a local rescue and sanctuary in Glade Spring, VA, has gotten personally involved and is working to make sure Omar gets justice.
Caroline lives just 5 miles from Suggs apartment where Omar was found cruelly starved to death. Had she known, she would had rescued him and taken him in, made sure he was safe and cared for. Caroline was in touch with Omar's original owner, a microchip led back to her. Needless to say, she was just devastated and heartbroken. The photo above of Omar in much happier times came from her.
She didn't want to give Omar up and rather then surrender him to the animal shelter, an almost sure death, she diligently worked to find him a good home. She thought she did. She never imagined the cruel fate that was in store for her beloved dog.
I'm asking you to help… help Caroline…. help Omar's original owner whose guilt is untenable…. and most of all, help Omar get justice. He had no voice while he lived and now in death, we must now all be his voice for justice!!
Ask Smyth County of prosecute Tyrell Suggs to the fullest extent of the law. Do not let this cruel crime be swept under the carpet like so many are there, again and again.
Please, help us get the word out…. write, email and call…. sign the petition.
Contact Information
Presiding Judge
Hon. Joseph S. Tate
109 West Main Street
Marion, VA 24354
Prosecutor
Jill Lawson
109 West Main Street
Marion, VA 24354
jlawson@smythcounty.org
Sign the PETITION!!
Tyrell Suggs' court hearing will be held on September 19, 2008 at 10:30 am at Virginia's Smyth County General District Court. If you are in the area, will you attend to show your support??
Please, help to get the word out, post and crosspost this…. email it to friends and family…. share it in forums and groups. We want to get 10,000 signatures to let Smyth County know the eyes of the world are watching and that we care and we demand justice for Omar, left to starve to death.
Email This Post
Like this post? Subscribe to my RSS feed and get loads more!