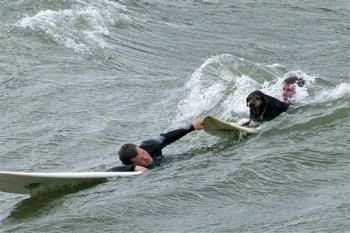 This is one pup who probably hadn't planned on a day of surfin', he just wanted to hang out on the pier and bark at the wave as usual. Unfortunately nature had other ideas and a large wave knocked the dog off the pier and his owner off his feet.
Smolenski rode in on the surfboard on his stomach, then rolled off the board when he got close to the dog. "I realized I was not going in (to shore) without that dog," he said. "That dog is that guy's best friend."
Smolenski got the 30- to 40-pound dog onto his surfboard and he stayed in the water, fighting the strong current to get to shore.
"I got pretty tired," he said. "I had a hard time getting in myself." He was joined by Riopelle, who helped both to shore.
"He put the dog up on his surfboard, and the dog rode the surfboard in to shore," said Royce Rodgers, an off-duty Muskegon Heights police officer who witnessed the rescue. As the dog crouched on the board, Smolenski held on from the water, fighting large waves and a strong current all the way to shore.
"I've watched the dog about a million times," said Smolenski, of Grand Haven. "He barks at the waves and then jumps back when they wash up on the pier."
The dog and it's owner were often seen in the area Rodgers said and he had brought his dog down but seeing the size of the wave decided to stay back.
Once the rescue party was on shore, the dog's owner gave the surfer "a high five and said: 'Thank you, brother,' then left so fast I couldn't get his name," Rodgers said.