Dog Tortured During House Burglary – VIDEO
Saturday, January 17th, 2009 at 8:32 am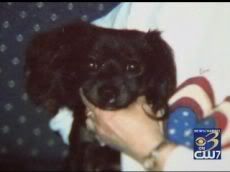 A Kalamazoo woman lost her best friend after her house was broken into and ransacked earlier this week.  Nancy Sheppard was at work on Tuesday when a neighbor called and told her that her home had been broken into and the police were there.
When Nancy arrived home she found that her home had been ransacked and a window had been broken.  Even worse, police told her that the sick twisted cretin that broke into her home had tortured her dog by pouring household cleaners all over him while he was in his crate.
Lucky, her 2 year-old dachshund mix had already been rushed to a vet. He had been allowed to go back home but the damage was already done, Lucky died Wednesday night.
"That was my buddy, that was my child so to speak, with four paws and fur," said Sheppard.
The break-in netted the thief only a handful of coins.
This was not the first time that Nancy's home had been broken into and that was why she had Lucky secured in a crate, to protect him. During a previous break-in Lucky escaped and Nancy didn't want that to happen again because she might not find him. Instead, her plan for safety turned into a death warrant for her beloved little 12-lb dog when the thief doused him with household cleaners, filling his bowls and the bottom of his crate.
"He couldn't defend himself," Sheppard said. "My buddy is gone."
Police have taken fingerprints and are investigating this depraved and disgusting crime and dearly hope to find the scum responsible. Anyone with any information about the break-in that happened on Tuesday afternoon in the 100 Block of East Maple in Kalamazoo is asked to contact Kalamazoo Public Safety at 269-337-8994 or Silent Observer at 269-343-2100.
My heart goes out to Ms. Sheppard for the loss of her sweet baby, her buddy.  All she wanted was her home and her baby safe and instead some piece of trash not only invades her home but takes away the one most precious thing she has.  I hope this trash is caught and they deserve to be treated with the same depraved indifference they treated this dog, defenseless to protect himself or escape from the torture meted out at the hands of this sick SOB!
Dog Tortured During Home Break-in
Email This Post
Like this post? Subscribe to my RSS feed and get loads more!