Dog Under Death Sentence Becomes a Hero – VIDEO
Tuesday, February 3rd, 2009 at 5:51 am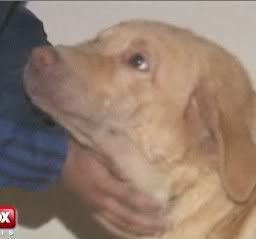 Update 2/5/09 – Update on Tiger, Death Sentence Dog to Hero Dog – VIDEO
Two Raleigh families are safe today even though a fire ripped through their townhomes and incinerated everything in it's path.  A dog is once again the hero of the story.
About 3 am Velma Boyd's dog, Tiger, started barking and it woke her up. This was unusual for Tiger and Boyd figured out the reason pretty quickly when she smelled smoke. Her neighbor's home, was on fire. Boyd got her son out then went to alert her neighbor, Patricia Calvin, and help her get her four children out of the house.
Now the most ironic twist to this story is the Tiger had been sick and Boyd had actually called the Humane Society that very day to pick him up and have him euthanized because she couldn't afford his medical care. No one showed up to pick up Tiger and that was the only reason he was there and alive… and able to alert them about the fire.
The Red Cross is putting these families up in a hotel for now, they have lost everything. But my question is this, what happens to Tiger now? He saved their lives. This story could have run under a headline, "6 Lose Their Lives in Overnight Fire" if Tiger was not there. Maybe not, but you never know, and I am quite sure those families don't want to find out but what about Tiger? Does this give him a reprieve or now that Boyd really has nothing, will Tiger go back under his death sentence?
Boyd calls it a "blessing in disguise" that the Humane Society didn't pick up Tiger.  There's nothing disguised about this, it's pretty clear and it is a blessing.  I hope she thinks about that and thinks hard.
Y'know, I'm happy these families were saved but also a little angry over this. People are so quick to dump pets. They are quickly disposed at the first sign of problems, financial, health, whatever. Shelters are busting at the seams with people giving up their pets right now. Intellectually I can understand if someone loses their home and has a family and cannot find some place to live that take pets that they may have to surrender their pets but usually there is time to try to find other alternatives. I don't think people lose their homes overnight without any notice, outside of situations like this one.
Yes, there is a crisis now, all over this country but I am honestly sick of innocents paying the highest price…
Hero Dog Saves Families from Fire
Email This Post
Like this post? Subscribe to my RSS feed and get loads more!