Dog with Problem May Lead to Medical Breakthrough
Saturday, September 15th, 2007 at 8:21 am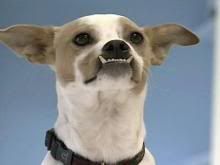 A small dog with a rather large problem may actually lead to a medical breakthrough that will be able to benefit both people and animals in the future.
Meet Pez, a little beagly dog with a lot of energy, a funny grin and a huge hole in the roof of his mouth.
Pez was a stray who is now safely ensconced at Sound Pet Animal Rescue and doctors are very interested in the toothy grinned little pooch because the brand new high tech surgery they are exploring to help him "could open new doors in animal and perhaps even in human medicine."
Peyton Gaudiosi, a Sound Pet Animal Rescue
staff member who brought the stray home from a shelter says, "He loves to play and he loves to swim – and run around!"
But that hole in the roof of his mouth is a problem because food often get caught in it or in his nose through the hole and it case him to snort and sneeze.
First, Dr. Kevin Monce took a look, then he called research veterinarians in Raleigh.

"This is the kind of case that, you don't see something like this very often," Monce said.

Dr. Guillaume Chanoit is at the N.C. State University School of Veterinary Medicine.

"I would say it's pretty rare to have such a big hole," Chanoit said.

Chanoit and a team of vets are working on a high-tech solution. They're using three-dimensional computer models to design a custom plate for Pez.

It's brand new technology. You might call Pez a guinea pig.

Before, this kind of reconstruction would take multiple surgeries. This will, they hope, be a one-step operation.

"We think that (a) it's going to be a tremendous change for Pez, and (b) we think that there are a lot of patients that will benefit from that surgery later on," Chanoit said.

The dog's case, doctor's said, could help more animals and even humans with similar injuries.

Vets will run trial surgery on a model with help from the N.C. State School of Engineering. Then, they hope to be ready to operate on Pez within two months. It could cost around $4,000.

And finally, after all that, the rescue group hopes that when it's all done, Pez can also find a good home. (WRAL)
Email This Post
Like this post? Subscribe to my RSS feed and get loads more!