Dogfighting, Animal Cruelty Charges… Again – VIDEO
Sunday, September 21st, 2008 at 8:23 am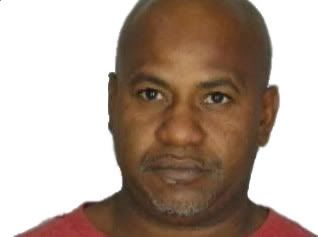 Got us a real winner here! Michael McKinney, 42, of Tampa, FL is facing animal cruelty charges again, related to three pitbulls and some puppies they found illegally confined in his yard after an anonymous tip.
This is not the first time this scum had face animal cruelty charges either. In 2006 they found a dead dog hanging from a fence and one with severe wounds of the head, face and neck.
This time they found one dog, Little Man, with puncture wounds of the head, face and neck consistent with dogfighting. A female, Onyx with six puppies, one of them dead who had five more puppies while in the care of animal control and another female named Monkey has a prolapsed uterus.
The dogs were chained with heavy chains attached to axles driven into the ground. Little food or water was found and no shelter for some.
McKinney is facing two counts of animal cruelty, confinement of animals without food or water and possession of an animal for fighting.
Animal Services are asking for no plea deal for McKinney because of his callous and uncaring attitude along with his previous conviction. He blatantly told investigators, "I'll walk."
"He has been particularly cavalier and callous towards investigators, thumbing his nose at the law if you will," said Hillsborough Animal Services Spokeswoman Marti Ryan.
"He didn't seem to give it too much concern. We are hoping with the cooperation of the courts that he will have a lot to be concerned about again. And we will not go down this road," Ryan said.
It's just a damn shame we can't confine trash like this in the same manner and conditions they do to the dogs! Last time he got away with 'time served'. Let hope this time something is really done! It's felonies he's facing now, make him pay!
Michael McKinney – Abuse Charges… again!
Email This Post
Like this post? Subscribe to my RSS feed and get loads more!