Dognapping Ring Nabbed! Mom & 4 Kids Under 7
Thursday, July 19th, 2007 at 2:23 pm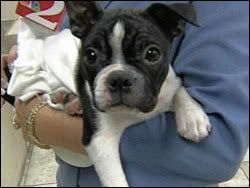 Now this is sad, pathetic and even rather funny in an ironic rather than amusing way. It should almost be a headliner under 'stupid crimes' or 'stupid criminals'! But trust me, I'm not laughing!
This doesn't sound like a mother who should have these children in the first place and now she's teaching them some really good lessons!
A ring of pint-sized puppy thieves has been busted in Florida, and police say their mother was the mastermind behind the crime.

Four children, all under the age of 7, were caught by a pet store security camera as they stuffed a puppy into a backpack, then exited the store.

Police say it's clear that their mother was overseeing the dog-napping.

Tami Loechner is charged with grand theft and contributing to the delinquency of a minor. She's currently being held without bond.

Authorities said she and her children entered Tiny Me Puppies in St. Cloud intent on stealing a dog.

After reviewing surveillance camera tapes, police said the children played with a 10-week-old Boston Terrier, then stuffed her in a bag and signaled to mom it was time to leave.

This isn't the first time Loechner has been in trouble. Police said she had been out on bond for child neglect charges for a near drowning involving one of her children. (11 Alive)
Email This Post
Like this post? Subscribe to my RSS feed and get loads more!