Dogs Abused, Neglected, Dead – 17 Animal Cruelty Charges
Sunday, October 5th, 2008 at 8:27 am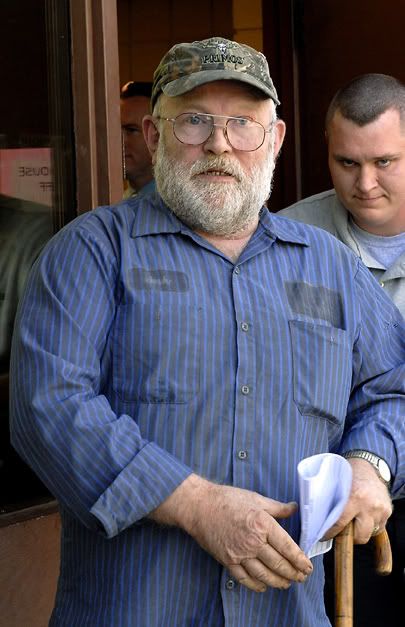 Steve Thomas Hudson or Morganton, NC, operated a fruit and vegetable stand just feet from dark, tiny airless sheds where almost 2 dozen dogs were living in deplorable conditions.
"The wretched stench of dog feces surrounding the quarantined dogs as they barked at the presence of humans. Inches of feces covered the floors. Abandoned metal objects surrounded the dogs in the small sheds that provided little to no sunlight."
Burke County Sheriff's Maj. Banks Hinceman said it's been years since he'd seen animals stuck in such deplorable conditions as the sheds at the produce stand.
Animal control officers found 17 dogs, 4 puppies and one dead dog, 4 dogs were found locked in the cab of a pickup truck parked in the sun. A total of 25-30 dogs were found.
They were numerous complaints from the public which led to the investigation. One officer had to don a full body suit to enter the appalling shed while others had to wear masks to cut down on the stench.
Hudson told officers that he just kept taking in stray sand it just got out of hand. Typical hoarder mentality, sadly.
The dogs will need to be evaluated by a vet to determine how they are and how soon they will be able to be adopted if they will be able to.
Hudson has been charged with 17 counts of misdemeanor animal cruelty and a felony charge is pending. Husdon was irate at the arrest and said he did the best he could.
While Carswell escorted Hudson from the magistrate's office to the Burke County Jail, Hudson repeatedly hurled obscenities at reporters.
The N.C. Department of Health and Human Services would be contacted regarding the food stand's proximity to the ramshackle housing for the dogs.
A part of me feels some pity for hoarders because most for the time they think they are doing what is best and they're intentions are good. The problem is that the animals suffer and suffer horrendously! People are supposedly intelligent to one degree or another and anyone who cannot see the cruelty and pain they are inflicting, even from their so-called 'good intentions' needs some serious help, whether mental or otherwise.
Email This Post
Like this post? Subscribe to my RSS feed and get loads more!