Dogs Get Only Tiny Bite of Helmsley's Billions
Tuesday, April 28th, 2009 at 6:18 am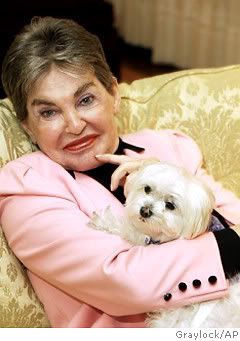 When Leona Helmsley died last year, she bequeathed $12 million to her beloved pooch Trouble.  It didn't take long for a bunch of greedy two leggers to step in a raise hell to get that knocked down to $2 million.  I'm not saying that the dog needed $12 mil but the thing is that as a last request it was willed to dog so what right does anyone have to deny it.
Then of course the judge passed out the bucks to some grandchildren that were quite specifically disinherited.  Guess a person's last will and testament doesn't count for much.
And as a final kick in the casket for Leona, the trustees went to court so that they could break her mission statement that the money go "to the dogs" and of course the court said do with it whatever you think is best, completely disregarding Helmsley's wishes since they said they weren't really binding anyway.
Looks like the bottom line is that of her approximately $5 billion, one about $1 million is "going to the dogs."  Now a million dollars is a lot f money, no doubt about it but when you look at the needs out there for dogs and animals, especially when you see $5 billion, it's really nothing but a drop in the bucket.  You'd think the trustees could have made a bit more of an effort of for the sake of form.
Trustees for the estate of Leona Helmsley announced $136 million in charitable gifts Tuesday, using their court-sanctioned authority to override the wishes of the late real-estate tycoon, who wanted her money spent on behalf of dogs.

Ms. Helmsley, who died at age 87 in August 2007, sparked a legal fight by leaving instructions in her will to administer money from the Leona M. and Harry B. Helmsley Trust to "purposes related to the provision of care for dogs." Trustees went to court to determine their discretion in giving the money away, arguing that the will didn't exclude other charitable pursuits. A judge ruled in February that trustees could give the money as they saw fit. (Wall Street Journal)
Sure, the money, whatever is going to be left when they take out their fees and whatever, is going to go to good causes, but I really would have liked to see a bit more spared for what Leona Helmsley wanted it to be. What good is a will anyway if a court is just going to decide whatever it wants to decide, completely disregarding the "dearly departed's" last wishes?
Looks like another case of "it's just a dog" so who cares?  Well, damnit, I care!  And I know a lot of you care too but that's not going to do squat so guess we had better just go back to doing our own work our own way and take care of the dogs ourselves!  Thanks for trying Leona!  Hope you haunt them to hell!
Email This Post
Like this post? Subscribe to my RSS feed and get loads more!