Dogs' Horrific Abuse and Deaths May Lead to Stronger Animal Cruelty Laws
Thursday, March 12th, 2009 at 7:50 am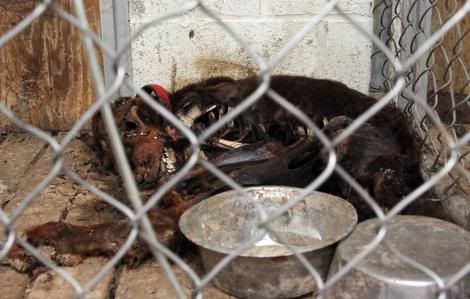 In October of last year a horrific scene emerged at High Caliber K-9 kennel, 7 dead and 12 starved dogs.  The scene was unbelievable, even to seasoned officers.  Dogs that were in the case of the kennel owner, Steve Croley, that he had been paid to board and train, allowed to die slow, cruel and painful deaths, akin to torture, and in the end, Croley's sentence was little more than a slap on the wrist.  Ohio's animal cruelty laws are weak, pitiful and in dire need of a serious overhaul.
Well, it may be coming.  If there can be any good to come of this horrific case, to see felony laws in place would give some measure of justice that these deaths were not totally in vain.
Measure have been introduced before and failed but Reps. Robert F. Hagan of Youngstown, D-60th, and Ronald V. Gerberry of Austintown, D-59th have just introduced another bill that they hope, on the heels of the Croley case, will pass.
The need for tougher laws became a Youngstown issue after seven dead and 12 starving dogs were discovered in October at High Caliber K-9, a kennel on Coitsville-Hubbard Road. Through a variety of missteps, the owner, Steve Croley got off with just four months in jail. Only four misdemeanor charges were pursued, and through a plea bargain he got off with less than the maximum sentence on those.

Had the law provided for felony charges, prosecutors would have been in a position to drive a harder bargain.

The penalty now for first-degree misdemeanor animal cruelty is up to six months in jail. If a fifth-degree felony is added to the law, the penalty would be six months to one year in prison. (Vindy.com)
You can see a revised version of the proposed bill HERE.
Liz Raab, one of the owners of Nitro, a once beautiful Rottweiler that was under the care of Croley that was found starved to death is pushing for these changes.She doesn't want to see anyone else, another family, face the pain and heartbreak she and her family have faced and still face every day, first with the loss of their beloved Nitro, then at the sad excuse for a plea deal sentence Croley received, a mere 4 months jail.
Words cannot express how difficult this has been but we are truly trying our best. I know he didn't get much jail time but I truly do believe after seeing what goes on in this court that he would not have rec'd any jail time if we all didn't do what we did. At the same time, I don't want to stop here and if possible I need your help – we live in NY but want to get the laws changed in Ohio – I don't ever want what happened here to happen to other animals or other loving families.
Liz has been in touch with me, keeping my up to date on the ongoing process to see stronger animal cruelty laws proposed and in place. Liz asks, "How many horrible things have to happen for people to wake up and get these laws changed?"
City Prosecutor Jay Macejko, the prosecutor on the Croley case, is one of the men who actually wrote a letter to the two state reps asking them to introduced legislation to strengthen animal cruelty laws, Youngstown Mayor Jay Williams was the other.
Right now 45 states have felony provisions for animal cruelty, Ohio is not one of them and it's long overdue. Animal cruelty case are on the rise and getting more violent and something needs to be done.
In his letter, Macejko talks about the Croley case. "To be blunt, misdemeanor penalties are not enough for what happened here, regardless of the number of offenses," Macejko wrote. "The macabre suffering that happened at High Caliber in late October is almost beyond comprehension."
"It's about time Ohio says "Yeah, let's do this." When someone kills an animal they need to be in the [prison] system," said Dave Nelson, assistant Mahoning County dog warden. "I think it should get support — who would oppose? I know it's been tried before, but the crimes are more violent now."
What Can You Do?
If you live in Ohio, contact your representative and let them know that you support these changes, that's it's long overdue.  You can find a list of Ohio Reps HERE.
Even if you don't live in Ohio, it will not hurt to show your support, to show that the eyes of the country are watching.
Get the word out!!  This is one of the most important things everyone can do, let people know.  If people don't even know, then they can't support.  Please, don't let those dogs' deaths have been in vain!
And as Liz says, "It honestly makes me sick and hopefully as you stated if the laws do get changed these animals didn't die completely in vain and maybe we can save some animals in the future if people know there will be stiff penalties for abusing animals."
Email This Post
Like this post? Subscribe to my RSS feed and get loads more!