Dogs Stolen from Shelter, Puppies Brutally Beaten and Killed – VIDEO
Monday, August 25th, 2008 at 7:33 am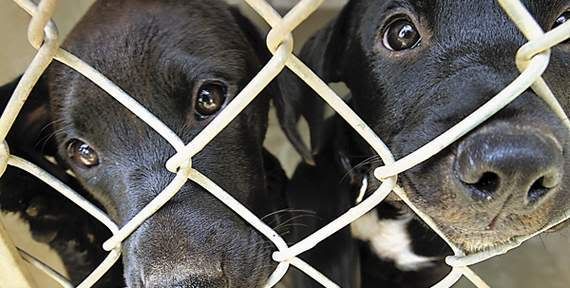 See Update – 8/28/08 – Suspects Arrested!
See Update – 9/23/08 – Animal Cruelty/Neglect Charges Finally Filed
What kind of sick SOBs break into an animal shelter, steal dogs and puppies and then beat some of the puppies to death, leaving them on display on a public road??
This is exactly what happened at the Josephine County Animal Shelter in Grants Pass, OR on Friday night. Police are looking for the trash that broke into the shelter, cutting through two layers of fencing, cutting off locks, then taking 11 dogs and puppies from their cages.
Four of the puppies were found, three border collie puppies and one blue heeler puppy, brought in as strays, were found beaten to death, laid out on Pleasant Valley Road near the 700 block. Three of the dogs were found wandering and have been returned to the shelter and four others are still missing. The missing dogs are two blue heeler puppies, white with dark spots, an older female dachshund and a female chocolate Labrador, about 2 years old.
Brad Tally, the supervisor at the shelter, says he's shocked this could have happen.

"There's a lot of issues that we deal with, neglect, abuse and cruelty in this county…I've lived here my whole life and I've never seen or heard of anything to this magnitude being done to an animal," he says.

Sheri James lives close and she says she couldn't imagine this happening in her neighborhood.

"That's terrible, this world these days…I've lived here for 15 years and I can't believe that would happen," she says.

Now the nearly deserted shelter is hoping the community will help find the missing dogs and help catch the people who did this.

Tally says this is the sixth time since January the shelter has been broken into. He says he has requested more money for tougher security, but he says there's just not enough money in the budget.

Anyone with information on this case is asked to call the sheriff's office at 474-5123. (WTVL)
Just random, wanton cruelty and violence!! Why the hell would anyone do something like this??
Break-in at Josephine County animal shelter
Email This Post
Like this post? Subscribe to my RSS feed and get loads more!