Don't Let these Dog Go Back to the House of Horrors – Petition
Monday, February 11th, 2008 at 8:32 am
Convicted Abuser Wants Dogs Back! Help to Stop this Atrocity from Happening! PETITION
This story begins in November of 2005 and if you don't have a strong heart or stomach, stop reading now. If you do, please help!!!
Over 100 dogs were rescued from a Blainsville, Canada home that was later demolished due to such extreme deplorable conditions and these were the conditions these dogs were living in. And yes, the picture below are of dogs, as hard as it is to believe.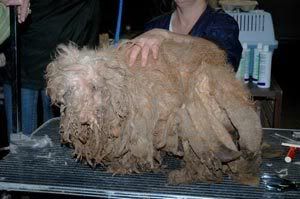 All 101 Fox Terriers' coats were very long, full of knots and fully covered in excrement. These little dogs resembled something straight out of a horror film. There were corpses of deceased dogs in different stages of decomposition within a sea of filth, as the living dogs ate their remains. Journalists from different media outlets, who were dispatched to cover this story, were stunned by the abominable conditions they witnessed. Overwhelmed by what they beheld, some journalist began vomiting! Everywhere, dogs were stacked atop of
each other in cramped cages. In certain cases, dogs were unable to lift their heads because they were jammed between the raised floor, resulting from the accumulation of excrement and the top of the cage. Some of the dogs were carrying three times their weight from all the excrement collected in their hair.
Many of the dogs had to be immediately euthanized they were in such horrific condition. Since then, all but 18 of the remaining dogs have been adopted and found loving homes and are learning how to be dogs. There are 18 that are in foster, these dogs are learning to be real dogs too- some of these dogs lost their eyes because they had never seen daylight and now they are learning to be part of families- learning to eat, learning to be touched and learning how to be loved. Now they may be taken from these wonderful new homes and placed back in the house of horrors they were rescued from. Imagine making these dogs go back- imagine being one of the families who have had to rehabilitate a dog only to have it taken from you to be put back to horror.
Their convicted abuser, Marc Andre LaPorte, will be sentenced on February 22 and all he faces is $4000 in fines and a few days in jail. At the sentencing he will be requesting these dogs to be returned to him!!! THIS CANNOT HAPPEN!!!
Please, watch the video then sigh the PETITION!!! We must send a message and send it quickly! Time is short. Will you actually be able to sleep at nite knowing these poor dogs are being returned to this monster, back to a life of hell??
PLEASE SIGN THE PETITION – No Dogs for LaPorte!!
Help to get the word out, post and repost, email this to everyone you know!! Please help!!
Email This Post
Like this post? Subscribe to my RSS feed and get loads more!