Employment Discrimination Due to Service Dog?
Monday, June 4th, 2007 at 10:29 am
The Americans with Disabilities Act defines the term "service animal" as "any guide dog, signal dog, or other animal individually trained to provide assistance to an individual with a disability." It also prohibits employment discrimination against qualified individuals with disabilities.
By federal law,  persons with service dogs are allowed to go anywhere that the public is allowed to go, public transportation, stores, restaurants, anywhere! And they can be severely penalized if it's found that they violate these provisions.
I've been amazed lately at the number of stories I've come across where people with their certified service dogs have been denied entrance to places such a courts and schools when the law is clear.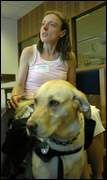 In this case a woman may be being denied employment because of her service dog. Alex Dumas was injured in a fall 8 years ago at her place of employment. Injuries from the fall triggered a series of physical problems that in the end almost killed her. In the beginning of 2006, confined to hospice care, rail thin, she was prepared to die.
Alex fought her way back and credits a large part of her recovery to Hope, her 2 1/2 yr old, 70 lb yellow lab. They are inseparable. Hope assists Alex with sight, hearing and mobility issues.
And Alex wants a job but sadly Hope's presence seems to be a problem for some potential employers.
"Not all of them reject me because of Hope," she said, but the ones who do really bother her.

Dumas, 38, of South Bend, said she has applied for several jobs and has been called for interviews at least 10 times. But when she shows up with Hope, everything changes.

Partly because of her experiences over the past few years, and the knowledge she has gained about medical issues, she would like to work in a doctor's office or in the health field.

She doesn't always mention the dog when she applies for jobs, Dumas said, and her résumé apparently looks good enough to get through the front door of prospective employers.

But that's as far as she gets.

She said a chiropractor stood with his arms akimbo as he told her to leave her pet in the car during her interview. She left instead, after futilely trying to explain that the dog is not a pet, but a service animal.

A woman at an assisted living facility told her, Dumas said, that she didn't know her company's policy on service dogs. How could she run an assisted living facility, Dumas wondered, and not know the laws?

The woman didn't return repeated phone calls seeking comment.

"I'm not mad," Dumas said. "I'm frustrated by other people's ignorance."

If the dog is the deciding factor, those prospective employers may be breaking the law.

Kent Hull, an attorney for Indiana Legal Services, said the Americans with Disabilities Act says an employee or potential employee is entitled to reasonable accommodations, which could include allowing a service dog.

Hull is not Dumas' attorney, but he said she could file a claim for employment discrimination with the Equal Employment Opportunity Commission within 180 days of the alleged offense. The EEOC likely would refer it back to the local Human Rights Commission to investigate, Hull said.

If the agency does not act within 60 days, he continued, Dumas could ask for a right-to-sue letter that would allow her to leap-frog over the administrative process and go to court.

Dumas said she isn't interested in filing a lawsuit, because she doesn't think that would help and might instead upset the companies she wants to work for.

Also, she said a lawsuit would imply that she is angry. She's not angry; she just wants employers to understand that what they are doing is wrong.

"I don't want a handout," Dumas said. "I just want a job, one where I make a living on my own." (South Bend Tribune)
Employers are supposed to know the laws. Laws against discrimination in any way, shape or form are very basic issues so what are these employers missing??  All I can say is that they're lucky that Alex isn't a litigious person because this is not an issue that the judicial system would take lightly!
Please feel free to comment, I'd love to know your feelings on issues like this.
Email This Post
Like this post? Subscribe to my RSS feed and get loads more!