Etana, Tortured Philly Boxer Finds a Home
Wednesday, November 14th, 2007 at 7:15 am
In August a pack of bullies, eight or so boys and young men found their sick amusement by torturing a 40-lb female, brindle boxer-mix. They doused her with accelerant, lit her on fire then proceeded to kick and beat the poor dog as she cowered in pain and fear.
Etana, as the beaten and battered girl was named by Phillies second-baseman Chase Utley and his wife, Jennifer – an SPCA volunteer – was cared for and nursed back to health by the SPCA staff and all medical costs were underwritten but the Utleys. Jennifer was at the shelter when the dog was brought in.
Etana, Jennifer said, is a name more befitting to a survivor, indicating spiritual strength and determination.
"This is one of the worst cases we've seen," said Howard Nelson, chief executive officer of the Pennsylvania SCPA when Etana came to the SPCA. "The severity of it, the use of an accelerant, the cooperative effort of a group – it's all very alarming."
Although Etana was most likely a stray, she is a sweet natured girl and even wagged her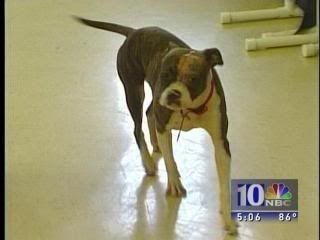 tail as she was examined, despite the pain she was in and the treatment inflicted upon her.
Now after months of rehab and TLC, Etana is recovered and this past weekend went home with her new family.
As far as I have heard, although there was a mention of suspects and pending arrests, no one has been arrested or charged with the crime or the torture and abuse of this sweet dog. If anyone has any information otherwise, please let me know.
Source – MSNBC
Email This Post
Like this post? Subscribe to my RSS feed and get loads more!