Please see the bottom of the story for any updates
11/29 – The story finally gets picked up by the media – see below
Update 11/30- Mayor Cancels Shelter Fundraiser – Jaime Glandon Put on Administrative Leave! See details below!
Rally "Justice for Jamie" – for all the details – CLICK HERE
Update 12/10/07 – Jack Hill Back Working for the City, Jamie Still Still on Admin Leave – See details below
Update 12/12/07 – New Animal Warden Appointed and Jaime Glandon reinstated!
This puppy, named Gabby, was at a shelter in Rushville, Indiana. On the Monday, 11/12, she was euthanized by lethal injection.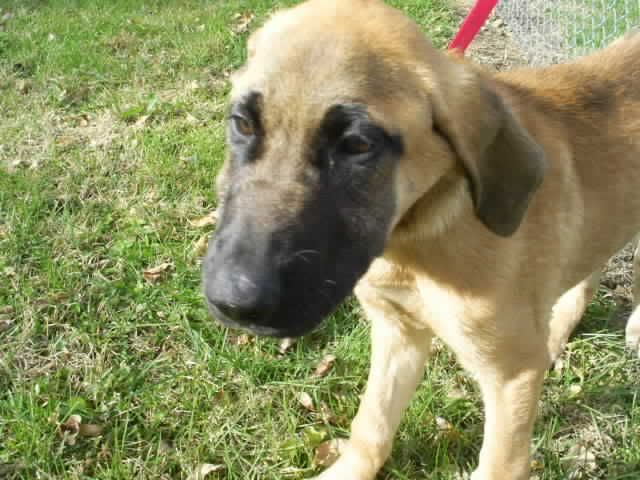 On Friday, 11/16, she was found in the shelter freezer by a worker STILL ALIVE!! She was buried under the bodies of other dogs that had been euthanized and had been there for four days!
Even worse, this is not the first time but the third time something like this has happened recently!
When contacted regarding this and the previous incidences, the current Mayor of the City of Rushville, Robert M. Bridges, ordered Gabby to be euthanized again. He showed no concern and based on information that I have received, just wants this whole thing to go away. (Read the Rushville Republican news below to see the story he's telling now)
The shelter worker, Jamie Glandon, who found Gabby in the freezer refused and removed her from the premises. She had her vetted and placed her with a rescue for protection and recuperation.
This same shelter worker is dealing with intimidation and threats over this situation because she didn't just follow orders, she removed the dog and now this is whole issue becoming public.
There is a petition asking The City of Rushville and the Animal Control to review their procedures and make some changes as
there are obviously problems.
Please take a moment to sign this petition and also add a note asking that no repercussions are leveled at the shelter worker, Jamie Glandon, who with kindness and compassion, saved this puppy after she already underwent hell.
The current major, Robert M. Bridges, will be leaving office in January which no doubt is one of the reasons he has little concern for the situation other than trying to keep it quiet.
He can be reached via email: mayor@cityofrushville.com or telephone at (765) 932-3735.
Animal Shelter
223 Smiley Avenue
Rushville, IN 46173
765-932-4754
Animal Warden: Jack Hill
Web Site: http://www.petfinder.com/shelters/IN320.html
I will add more information as it come available. I spoke with the source for this story a short time ago and was told that the mayor is now completely denying any knowledge of any of this. There is supposed to be media follow-up in a few days. Also there is the possibility of some animal advocacy groups becoming involved.
Please take a moment to sign the petition! Get the word out on this! Post and repost!! These cruelties against innocent animals cannot be tolerated to continue nor can this be allowed to be swept under the carpet.
It's sad enough that animals have to lose their lives to euthanization but for it to be performed so carelessly that they much suffer so needlessly is beyond cruel and humane!
And that Jamie Glandon, who stood up for the humane treatment and will possibly be facing further threats and intimidations as well should not be allowed to be tolerated!
PLEASE HELP!! SIGN THE PETITION!! GET THE WORD OUT!!
UPDATE – 11/28/07
I just spent about an hour on the phone with a volunteer at the Rushville Shelter who backs up everything that has been reported.
The volunteer, Linda, who has worked there for three years along with the Jamie (Jamie was a volunteer for 3 years before being hired full time approximately 6 months ago) told me about when Gabby was found. A deceased cat was brought into the shelter to be disposed of and when Jamie took the cat to the freezer, a large freezer walk-in style, she saw Gabby poke her head up. The dog had been tossed in a 'barrel' with the bodies of other dogs.
She removed the puppy and informed her administrator and was told to take the puppy to the a vet's to be euthanized again. Then she appealed to the mayor himself. He told her to take the puppy to a vet's and he would take of of the bill to euthanize the puppy. She found this unconscionable.
She took the puppy to a Dr. Jackman after bathing and trying to warm her. By the time the vet could see the puppy it was at least two hours later and even then the dog was ill and her legs were swollen and she smelled like 'death'. At the time, Dr. Jackman was supportive and helpful even giving her some shampoo to help remove the death scent from the puppy.
Now, as the 'shit hits the fan' it seems he is back-peddling and saying that the dog's temperature was inconsistent with having been in a freezer (remember that the dog had been bathed and it was at least two hours since the puppy was removed from the freezer) and that the dog had never been administered a lethal injection.
Linda also relayed to me a previous incident which happened, she believes, in August/September. This time is was a border collie (see a comment posted below from the petition regarding the border collie that was euthed three times) that was euthanized. The dog was found the next day in the freezer still alive and euthanized again. It took three injections before this poor dog was properly (well, not properly but at least efficiently enough) euthanized.
She also confirmed that the animals there were euthanized by a cardiac injection rather than the hepatic injection as Dr. Phillips said they were trained to do in his comments.
At the time Jamie spoke with a Dr. Hills (Mills?) who was appalled at the situation.
When the Mayor was informed, he request 'unofficial' reports to be filed on this incident and another one as well. Unofficial! What he did do was to deliver to the shelter administrator a scale and stethoscope so that dogs could at least be checked for any heart sounds after euthanization so this wouldn't happen again.
Considering his actions, it's kind of difficult for him to deny any knowledge at all now. Oh, and incidentally, both the scale and stethoscope still sit in almost the exact spot where they were placed upon delivery. Makes you wonder how many other dogs suffered this horrendous fate.
And earlier today the chief of police along with two officers impounded Jamie's computer from the shelter. There was also a closed door meeting with the Mayor and the local newspaper along with some others. No telling hat exactly what went on but it was said to be an 'ambush' for Jamie.
Linda also related numerous other incidences at the shelter of neglect and unsanitary conditions. There are photos to back up much of this and paperwork as well.
This is not a witch hunt unless you count what Jamie is now dealing with! The current mayor will be out of office come January along with most if not all his appointees. Jaime has no interest in the administration position which may be opening up at the shelter and nothing at all to gain from going public with this. All she wanted was that these issues be looked into and fixed and now she is facing a hell of her own.
I'll continue to update you with any new information as I find out more.
UPDATE – 11/29/07 – 9:45 pm
The story just hit major media!! From The Indy News Channel
Whistleblower: 5 Dogs Survived Euthanasia Attempts

Rushville Suspends Shelter Director

RUSHVILLE, Ind. — Rushville suspended its animal shelter's director over allegations that five dogs have survived euthanasia attempts there since August, including a dog that lived despite spending several days in a freezer.

Shelter director Jack Hill's suspension followed the allegations made by Rushville animal control officer Jamie Glandon, who said she recently found a dog — Gabby — alive in a freezer four days after it was believed to have been euthanized, 6News' Rick Hightower reported Wednesday.

The shelter's freezer is where the carcasses of euthanized animals are placed until they can be discarded.

"I went into the freezer to dispose of an animal, and (Gabby) popped her head up out of a barrel," said Glandon, who added that dead animals were piled around the survivor.

Glandon said orders were given to try to euthanize Gabby (pictured) again, but Glandon refused, taking the dog instead to a veterinarian.

Glandon said four other dogs survived euthanasia attempts since the summer: a border collie in August and three black lab puppies in October.

She said that after 6News talked to her Wednesday, police confiscated her computer at the shelter. She said she believes her job is in jeopardy because she spoke about the failed euthanasia attempts.

Glandon said she wouldn't reveal where Gabby is, but she hopes to place the dog in a home once it has recovered.

"Gabby is in hiding. She is somewhere where she is safe, and she is recuperating," Glandon said. "We're not making her location known to anybody for safety reasons for her."
Rushville's local newspaper, the Rushville Republican is also working on a story and I'll post it here when it's published.
Rushville Animal Shelter Under Investigation

It would be any animal shelter worker's worst nightmare.

Imagine going to a walk-in freezer filled with animals that are supposed to be dead after being euthanized and seeing a dog, alive, pop up.

Now, imagine it's happened twice before.

So begins the saga of an ongoing investigation at the Rushville Animal Shelter, an explosive situation canvassing community, state and cyberspace forums nationwide.
Read the full story HERE. It is a long and detailed accounting.
I have a few comments about the story;
Mayor Bridges says that he got on this and admits to being aware of the previous instances but shortly after this came to light, around the 26-27, calls to him elicited the response that he didn't know anything about it. This is a quote from an email I received written by an animal advocate, dated 11/26
I spoke with the mayor, Bob Bridges, and he claimed not to know what as going on about anything. Didn't know anything about the dog or he situation.
How could he not know what was going on when he himself told Jamie to take the dog to the vet's?
The comments from Dr. Jackman come as no surprise as I was told yesterday that he was going to say what he did. Hopefully further tests on Gabby will reveal something more conclusive. No surprise either that her temperature was not severely suppressed, it had been several hours and the dog had been bathed since she was removed from the freezer. Her body was also insulated by the bodies of other dogs.
Would love to hear something from Jack Hill regarding this whole situation but it looks like he has been suspended and most likely told not to say anything. It seems from some comments that people feel that the blame is being placed on his shoulders but he hasn't had much if any say on this at all as far as I know. Where does he stand on this. Was he really trained in the proper euthanasia methods and if so, why were they not being used?
Personally I take many of the Mayor's comments with a 'grain of salt'. Now that this is out in the open and cannot be covered up and swept under the carpet, being a politician, he necessarily needs to take a 'proactive' stance and do some serious CYA. Trust me, what he's saying now and what he was saying are two different things as many people have commented and reported.
As far as Jamie's motives, she lays them out herself:
"I hope that the shelter changes its policies on euthanization and the treatment of the deceased animals," she said. "I hope that people realize that animals aren't trash. A life is a life. I hope that people in Rushville become aware of the problems that the shelter is facing and will step up and help so that stuff like this doesn't happen again. This is where taxpayer dollars are going. I want people to understand that I have been working very hard at this shelter for almost two years trying to make things better. Had I kept this quiet for the third time, that would basically have been like saying I approve of what's going on, and that's not who I am. I'm not here to be political, not trying to cause trouble, not personally out for someone's job or to go after anyone. I'm protecting the animals, and by keeping quiet I'd be doing more harm than good."
To be honest, I am not trying to come down on anyone. This situation is reprehensible and needs to be taken care of immediately. It is far past due.
The bottom line here – please remember that the important thing here is the dogs… not the Mayor or Jack Hill or even Jamie Glandon. It's the dogs, its the animals who are suffering. Stop placing blame, just fix the problem!!
UPDATE 11/30/07
This is the latest update on the Rushville Shelter debacle.
Police and Mayor's office shut down fundraisers for the Rushville Animal Shelter. There were pictures with Santa scheduled tomorrow to raise funds for the Rushville Animal Shelter. The mayor's department ordered the police to prevent this fundraiser from happening, claiming it was due to an ongoing investigation at the shelter.
The public was never notified of this change, so they will be showing up for pictures tomorrow at noon.
Shelter assistant, Jamie Glandon, as of today November 30, is on administrative leave, she has been ordered to stay away from anything shelter related unless she is escorted by a uniformed police officer.
There were 7 animals slated to go into rescue, now they are trapped in the shelter as it has ceased operations due to the investigation.
Thanks for the update Linda!
Now ask the question, 'Whose taking care of the animals at the shelter now that Jack Hill is suspended and Jaime Glandon is on administrative leave?"
The police department!! And I am sure they are qualified to handle all the responsibility inherent in taking care of the animals and the shelter. (Please read a great deal of sarcasm in that comment)
You can also find full media on my website PetLoversTips.com at Justice for Jaime and Gabby. See below – it's just gotten a little much to add everything here. Thanks!
News Stories and More Information on Jamie Glandon and Gabby.
Since the shelter's closing, Glandon reports that calls have been received from rescue groups all over the United States, offering to pull every animal that is in the shelter now to keep the police department from having to use their time and energy to care for the animals, but the city is reportedly refusing.
A Note From Jamie
Hello all,
Jamie Glandon here. I justed wanted to say thank you all very much for your concern for Gabby. It means so much to me to know there are people out there who would have done the same thing and will continue to fight the good fight. Your prayers and encouraging e-mails have really kept me going through all of this. Gabby is doing wonderful in her foster home. She is really coming along and learning how to be a puppy. She is being shown love and compassion and I can assure you she is in the hands of wonderful people. Please continue to say a prayer for her as we aren't out of the woods yet.
With Kindest Regards,
Jamie
UPDATE – 12/6/07
Below is a copy of a letter that Jamie sent to the Police Department stating the fact that she is more than willing to have additional tests done on Gabby under these stipulations.
City Of Rushville Police Department
270 West 15th Street
Rushville In. 46173I'm sending you this letter in regards to Gabby, the German Shepherd/Mastiff mix. Because of the condition in which Gabby was found on 11-16-07 after attempted Euthanasia, Gabby was placed into rescue and a foster home. Her foster mom has been made aware that the Police Department for the City of Rushville would like to have Gabby seen by a veterinarian. Gabby's foster mom has already had extensive tests run at her personal expense by an independent veterinarian concerning Gabby's condition, but is willing to have the tests run again.

Gabby's foster mom is concerned for Gabby's safety and has asked that the following stipulations be met before consenting to additional tests:

The City of Rushville recognizes in writing that Gabby is not the "property" of the city.
The City of Rushville agrees in conjunction with Gabby's foster mom that the test be preformed by independent veterinarian outside of Rushville.
Once the tests have been completed, Gabby will return home that day with her foster mom.
Gabby's foster mom will be present in the room for the entire exam.
If the City would rather utilize the tests already obtained by Gabby's foster mom, through an outside lab, she would be more than willing to release those lab results to the investigator.

Jamie
Rescue Coordinator
www.petfinder.org/shelters/IN320.html
UPDATE – 12/10/07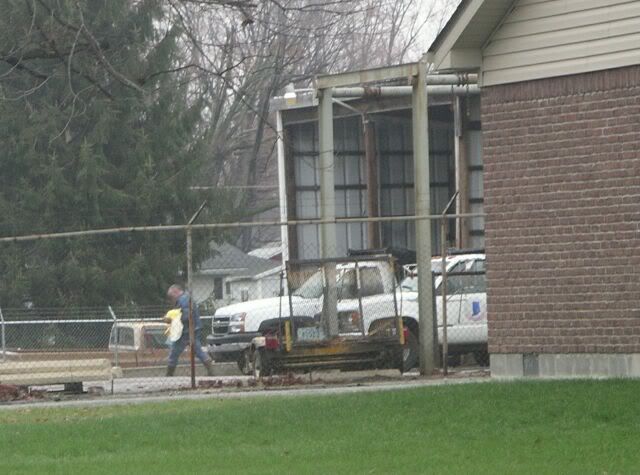 Well looks like Jack is back and Jaime's not!
Apparently, Jack Hill the Head Dog Warden in Rushville has been reinstated! We've got eye witnesses that Jack is now working for the City in the Streets Department. But then who needs an eyewitness when a picture say a thousand words. As for Jack, this is essentially a promotion as that is the Department where Jack wished to work.
Meanwhile, there has been no official announcement from the Mayor or the City, Jamie is still on administrative leave.
Jamie went to the shelter today to retrieve some personal belongings. The Mayor happened to be there with two unidentified people, Jamie was refused admittance. She said she could smell the stench of feces and urine as soon as she stepped out of her car.
I hear there are things going on behind the scenes and Jack Hill has had several reports lodged against him as one of our commenters stated and I had previously heard but somehow he's back at work for the City while Jaime sit languishing and the animals at the shelter suffer more each day.
There have been offers from numerous rescues to take all the animals out of the shelter but the city has refused. So they're pissed and taking it out on Jaime and a bunch of poor, innocent and defenseless animals. Where's the justice??
UPDATE – 12/12/07
Mayor Bridges has appointed a new dog warden for the city of Rushville until the end of his term as mayor. The would be none other than Jimmy "we shoot um in the head" Miller. This would be the same man that was dog warden eight years ago in Rushville and was moved to the street department after he was accused of stealing and selling purebred dogs before the owners had a chance to reclaim them, and shooting dogs and cats in their pens. Mr. Miller's answer to euthanasia!! This information was written in a press release issued today, December 12, 2007, from the Mayor's office and will be covered in the December 13th edition of the Rushville Republication Newspaper.