Evidence Stays, Christine Abrams Changes Plea
Wednesday, October 29th, 2008 at 6:41 am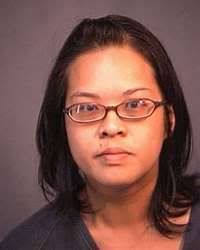 UPDATE – 12/20/08 – Christine Abrams in Jail! – You can also find links to all the background stories on this prolonged and horrific case.
Brevard County Judge Kelly McKibben ruled against Christine Abrams' lawyer, Andrew Stine's motion that the key evidence in the case be thrown out.
She said police responding to a missing person's report did not err in March when they entered Abrams' home without a warrant after peeking through a window and spotting Ella's decomposing body in a cage.

Stine had argued that evidence seized from Abrams' home should be thrown out because police violated her Fourth Amendment rights by entering without a warrant.

"The court finds that law enforcement did not have time to seek a warrant and they needed to act immediately since there was a likelihood based on the totality of the circumstances that the defendant may have been facing a medical emergency in the residence," McKibben wrote.

"Law enforcement would have been derelict in their duties had they stopped searching once they observed the deceased dog and the disarray in the living room, knowing that they still had no leads on the location or whereabouts of the defendant."

McKibben also denied Stine's motion asking prosecutors for a specific time frame they believe Ella was confined and died because, she said, they've already provided sufficient information.

Stine said he believed that information could bolster a possible theory that someone else was responsible for Ella's death. (Forida Today)
Shortly thereafter Stine announced that Christine Abrams would change her 'not guilty' plea on December 4. No word whether she will plead 'guilty' or 'no contest' but either way there will be no trial and the court will be able to proceed immediately to sentencing.
Abrams is facing two misdemeanor charges punishable by up to a year in jail and a $5000 fine for the cruel starvation death of Ella, a once beautiful white German shepherd.
Christine Abrams moved and left Ella locked in a crate without food or water. There was a bag of dog food sitting just feet from her prison. She starved to death smelling what she would not get close enough to have, locked in a prison by the one person she loved and counted on.
With Abram's chance of plea, it will be left up to Judge McKibben's discretion what the sentence will be . We can only hope that she will be sentence to the max. There is no sentence that can be handed down that will come close to Justice for Ella though!
Email This Post
Like this post? Subscribe to my RSS feed and get loads more!