Ex-Employee Kills Dog in Retaliation for Job Loss
Tuesday, December 30th, 2008 at 8:44 am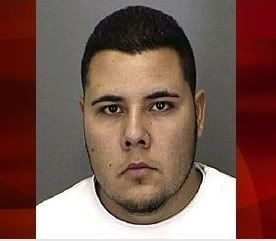 In anger for losing his maintenance job at California Turlock Golf and Country Club, 21-year-old Franco Garcia Aguilar retaliated against another much loved and loyal employee, Quinn, a rescued border collie and unofficial mascot.
"There have been many tears shed throughout the club over Quinn's death," said Joel Erickson, the golf course superintendent, who was also Quinn's handler. "He will definitely be missed."
Club members and employees are in shock over the loss of Quinn who became the first working dog at the club a little over a year ago.  Quinn was adopted to help control the goose population at the course.  Protected, the geese cannot be harmed, so Quinn's natural abilities kept the geese off the greens where their dropping caused damage.
"Quinn would herd the geese into the water and then wouldn't let them leave," Michael Blevins, the general manager of the golf and country club said. "If they can't leave the lake, then they can't find food. Eventually they would get so frustrated with the dog that they would fly away."
"He liked to play with the geese sometimes and trick them," Erickson said. "He'd hide in the bunker with just his nose peeking out, then he'd come running out like the wind and frighten them all away."
And now because a punk got pissed off with his boss after he lost his job, Quinn's antics will be enjoyed no more.
"There was a joke that it would take golfers longer to finish their rounds when Quinn was working because they all liked to stop and watch him for awhile," Erickson said. "He was a very happy, go-lucky, enthusiastic dog with the warmest, kindest eyes."
Initially when Erickson found Quinn, he thought he has been savaged by coyotes.
"I couldn't hardly stand to look," Erickson said. "It was like a scene from a horror film."
But when he did look closer, it became evident that Quinn had not been brutally attacked by coyotes but by the most cruel of all animals, a person did this to him. Someone shot the dog numerous times, literally blown him apart.
A reward was put up and it didn't take long for a tip to lead to Aguilar who confessed that he was pissed off and wanted to get back at his boss so on Dec. 16 he drove to the golf course, parked a short ways away, walked  to Quinn's kennel and shot the dog three times with a 12-guage shotgun.
At the time of his arrest, Aguilar was already under arrest for a domestic battery charge and he showed no remose for the brutal killing of the much loved Quinn.  His biggest concern was that he didn't want his boss to find out because he wanted to try to go back to work at the country club.
Now he's also facing animal cruelty and burglary charges on top of the domestic battery charges.  Unfortunately this piece of trash is already back out on the streets after posting bail.  A real contributing member of society, maybe if the legal system does its job he can see what he can contribute to a prison society behind bars.
Email This Post
Like this post? Subscribe to my RSS feed and get loads more!