Ex-NJ Coucilman Conviced of Animal Abuse
Friday, March 14th, 2008 at 11:34 am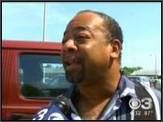 After delay on top of delay, finally a conviction has been handed down in the case of Robert McCann who let all but five tiny puppies in a littler of 15 die due to exposure to sub-freezing temperatures.
On Thursday the court handed down conviction on four counts of animal cruelty for failing to provide sufficient shelter for a dog. This stems from a February 2007 incident in which his female Lab mix dog, Coco, was forced to give birth to a littler of approximately 15 puppies in sub-freezing temperatures. She had been kept chained to a tree, her only shelter a plastic Igloo dog house structure.
When a tip brought Kathy McGuire of NJ Aid For Animals to the McCann home the day following the birth of the puppies, McCann refused to relinquish them to her care, instead charging her $250 for the mixed-breed puppies then he 'rented' Coco, the mother dog, to nurse the pups.
McGuire took the mother dog and puppies to veterinarian Dr. Honey Rothberg, only five of the litter survived and Rothburg determined the rest of the litter died of complications from hypothermia.
Rothberg had testified newborn puppies should be kept in an area where temperatures are about 85 degrees. She said the body temperatures of the puppies brought to her were so low they did not register on a thermometer.
Specially appointed Municipal Judge William Golden dismissed five additional animal cruelty counts. He imposed a $1,200 fine on McCann, ordered him to pay $894.93 restitution to the animal hospital that cared for the dog and puppies, and also ordered 100 hours of community service.
The sentence will be suspended while McCann appeals. His claim is that this was all political machinations designed to keep him out of office.
McCann, who was a member of the borough council when he was charged with the offenses in February 2007, said the charges were filed in retaliation after he filed notice he planned to seek election as mayor in the Camden County municipality.
The five surviving puppies were adopted and Coco was spayed before being returned to McCann and her live at the end of a chain in April 2007.
A comment left by someone who was obviously at the trial makes quite the statement about McCann:
At no time did McCann express even the slightest bit of remorse or regret about the deaths of the puppies or the conditions they were forced to endure. During his closing argument, McCann paced around the room, covering more space than Coco was allowed to have for her entire life. On the first day of the trial, McCann left the room several times to use the men's room. Coco had no choice but to relieve herself within the perimeter of the length of her chain. After the trial, McCann got into his truck and drove away. Coco cannot leave her chain. She is tied outside every minute, every hour, every day, and every year of her life. McCann will appeal his conviction. There is no appeal for Coco, or for all the other dogs who spend their lives tied outside. It is time for a change in the law!
His actions during the trial mirror his actions throughout the entire case, his cold-hearted lack of caring and concern and refusal to take any kind of responsibility for the cruel deaths of those poor newborn puppies. This is a man who help public office and aspired to a higher one; what makes any one think he would should any more care or concern for his constituents than he did for these innocent and doomed living creatures?
This is a man who, in July, when confronted by CBS 3 Reporter Cydney Long and told he was a leader in the community and that people were outraged, McCann replied: "I'm not a leader in the community; my time is up December 31st."
Source – Courier Post
Email This Post
Like this post? Subscribe to my RSS feed and get loads more!