Excellent News! Arrest Made in Hyde Park Starved Dog Case & Update on Sally
Saturday, September 27th, 2008 at 7:35 am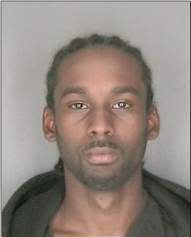 Update 3/25/09 – Jail for Man Who Dumped Starved Dog in Donation Bin
See Update – 11/12/08 – What's Up with Sally, Starved Dog Found in Donation Bin?
Have to admit, I didn't think I would see this happen but it did and it made my day! You all remember sweet little Sally, short for Salvation, the terrier mix that was found dumped in the metal clothes donation bin in Hyde Park, NY? Well, the actually found the guy who did it!!!
Yup, Gary Lee Rhodes, 28, of Poughkeepsie was the owner of Sally and has been arrested. Rhodes has been charged with one count each of torturing/not feeding an animal, abandonment of a disabled animal and neglect of an impounded animal.
All charges are misdemeanors in violation of state Agriculture and Markets Law.
The arrest was the result of a joint investigation between the Dutchess County Sheriff's Office, Dutchess County SPCA Law Enforcement Unit, City of Poughkeepsie Police and the Dutchess County Field Intelligence Group. Sounds like everyone wanted to get this piece of trash!
Dutchess County SPCA Executive Director Joyce Garrity said there is "finally justice for Sally."
Well, this is definitely a step in the right direction, now we just have to see how prosecution and sentencing goes. I was hoping to see felony charges to be honest and I know that was what some at the SPCA were hoping for as well. That is a disappointment. But I will still be crossing my fingers that there really will be justice for Sally!
And speaking of Sally, what's she been up to lately and how's she doing?
Well, turns out Sally is becoming a bit of a poster dog for abuse.
Earlier this week, Sally made a visit to Marist College where she spent some time with professor Douglas Brush's public opinion class. They will use Sally's example as a starting point to develop a public relations campaign to prevent animal abuse.
"She will be used as a symbol to make the public more aware of animal abuse," he said.
As Sally made the rounds of the classroom, putting her paws up on desk after desk – her tail constantly wagging and her tongue freely giving licks – Garrity told the class there is a direct connection between animal abuse and domestic violence.

"What is happening in the family of the person or persons who did this?" Garrity said. "Do you think they are happy people, loving people, or is there some violence in their lives?"
Well, judging by the picture of Rhodes, he's not looking too happy but then that may be just because he got caught too!
Sally is still recovering and doing well, up to about 25 lbs from the 16 lbs she was when she was found. She's got a fantastic attitude and is about as happy as a dog can be.
Alot of people are vying to adopt this sweet girl but vets will determine when she is ready and I am quite sure the SPCA will make sure she goes to a wonderful family!
So, all in all, this is pretty good. The charges fall short of what I would have liked to see but then again I didn't actually expect they would ever even find the scum who did this.
Check out the pictures below of Sally's visit to Marist College, what a curious little ham she is, and she just loves the attention! Who ever is lucky enough to adopt this sweetheart is going to be very lucky indeed!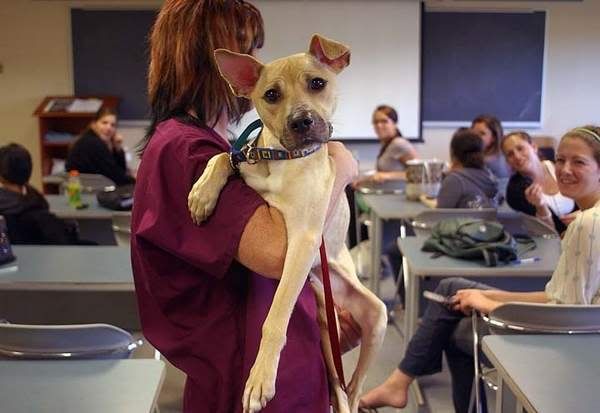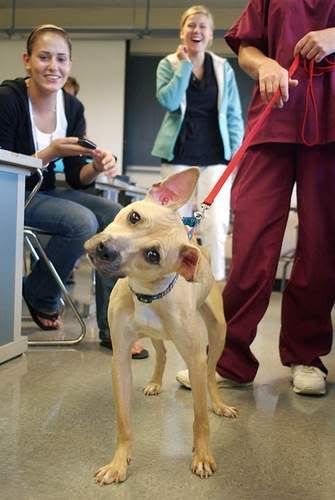 Email This Post
Like this post? Subscribe to my RSS feed and get loads more!