Family Suing Humane Society Over Dog's Death, But Who is Really to Blame? VIDEO
Tuesday, February 3rd, 2009 at 7:56 am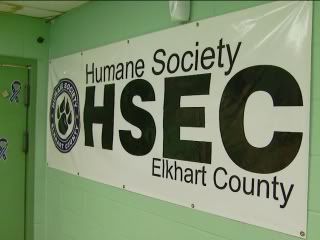 I read stories often where through some situation, often the fault of a shelter, a family's dog is euthanized.  Horrible mistake happen through accident, negligence, etc.  I usually feel terrible for the family and the dog.  This time of course I feel sorry for the dog but although the humane society is being sued, I don't see how the blame can be laid at their feet.  I do feel bad for the family but honestly believe it is because of their negligence that this happened.
The story starts with a death and ends with a death.  In December during the Christmas holiday, an Elkhart County, IN couple, the Messers, had to travel out of state after a family member passed away. They decided to leave their dog, 3-year-old German Shepherd named Bear chained up outside and have their brother feed and care for the dog.
While they were gone, Bear slipped his collar and got away. He wound up at the Elkhart County Humane Society society as a stray and was euthanized.
Terrible…. horrible…. sad. I can understand the Messer's grief over this but there's much more to the story.
When the Messer's returned on January 7, their return delayed due to another family emergency, and found Bear gone, they tried to find out exactly what happened.
Shortly after the dog escaped a neighbor found him but didn't know who the dog belonged to. The neighbor still kept the dog for 4 days trying to find the owner without any luck. After that they just could not keep the dog any longer and surrendered it to the Humane Society. The neighbor did leave a new collar and leash with the dog in the hope they could hold the dog longer than the 3 days they have to for strays.
"The dog came in with no tags, no microchip, no identification. We held the dog for 3 days, which is our protocol. We actually don't have to hold them for any amount of days. But, here, we hold them for 3 days if we do not know who the owners are. If we do know who the owner is, we hold it for 10 days," Elkhart County Humane Society Assistant Director Rachel Dennis said.
Sure, protocol sucks but right now shelters are swamped with more people than ever abandoning and surrendering their pets. Shelters don't have the room to keep animals any longer then they have to anymore regardless of how nice or beautiful they are.
The Messer's are still angry and say the shelter should have kept Bear for ten days because the neighbor dropped him off with a collar and leash…. because he was a beautiful dog.
Bear was surrendered on a Saturday and the Messers didn't contact the shelter until Wednesday and it was too late. The staff feels terrible about what happened and they apologized but there was nothing they could do.
When the director asked Steve Messer why the dog they they claimed to love so much and were so heartbroken over wasn't microchipped, he said he didn't believe in it and even after the fact says that he didn't regret not having him microchipped, even though it would have most likely saved his life.
The shelter, rightly I believe, lays the blame on the owners.
"To leave their dog outside for 7 days, tied up to a doghouse in subzero temperatures — because it was very cold that week," Dennis trailed off. "What does that say about you?"
They didn't get a call until four days after the dog was brought in. The dog had no ID or microchip.
Now the couple has sued the Humane Society and claims they were negligent. I think they should look a little closer to home before they lay blame. What about the brother who was supposed to be caring for the dog? When the dog went missing why didn't he do anything, call anyone? If they really loved their dog so much, why would they leave it outside, chained up in sub-freezing temps? There's plenty of blame here and all the Messers are doing is looking for a scapegoat to assuage their own guilt.
What do you think? Was the shelter negligent in any way? Who is really at fault here? And sadly, the bottom line is that the truly innocent one in this sad story is the one who paid the highest price, Bear is gone and nothing, no amount of blame will ever bring him back.
Family Sues Humane Society Over Death of Their Dog
And trust me, I am really restraining myself from saying what I really think about the family who loved their dog so much that they would leave it outside in the middle of winter for more than a week, without any kind of ID then file what is a totally frivolous lawsuit to eat up taspayer money and waste court time…. but I think you get the idea….
Email This Post
Like this post? Subscribe to my RSS feed and get loads more!