Fatal Burning Death of Dog Galvanizes World
Tuesday, July 10th, 2007 at 6:53 am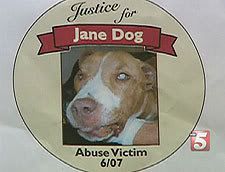 Last month 5 North Nashville, TN boys, aged 9-14, were charged with animal cruelty after pouring gasoline on a dog and setting it on fire.
It's terribly sad that it takes the horrendous and shocking death of an innocent dog to open the world's eyes to the demoralization of our youth and the need for much stronger laws against crimes of this nature, even for so called 'children'! These are the 'children' that will be populating our prisons in the years to come for violent crimes!
It was a crime that shocked animal control officers and spurred international reaction.

Late last month, officers charged five North Nashville boys for setting a dog on fire. The animal later died.

It was a crime that veteran animal control officers can barely talk about because it makes them so angry.

What's also disturbing is the suspects are children, ages 9-14. Now, people from all over the world want to make sure they serve the maximum punishment.

Investigators never found out if the dog had any owners or its name. The animal is known now as Jane Dog.

"It's been overwhelming," said Billy Biggs, field operations supervisor with Metro Animal Control.

Metro Animal Control has received hundreds of emails and phone calls from people all trying to give Jane Dog a voice.

"He had flames from head to toe and he was running so fast he was burning," Arthur Greer said. "He tried to lick himself when he was burning and his face caught on fire."

In late June, Metro animal control said five children in North Nashville doused kerosene on the dog's genitals and set its whole underbelly on fire.

The dog, trying to put the fire out itself, burned its whiskers and tongue. It died in what animal experts believe was a slow and painful death.

"Something's wrong somewhere for kids to do this kind of thing," Biggs said.

Now, the juvenile judge has received letters and animal control personnel have two folders worth of emails and letters.

A lot of the correspondence point out crime stats.

"Every known serial killer started out with animals," Biggs said.

"This crime is despicable. I hope you will use your judicial sense of fairness to victims and assess the maximum sentence," according to one letter.

But what's enraging to animal control officers and those who've written in is the maximum punishment is placement in Tennessee Department of Children's Services custody and not jail time or a record.

"I've seen bad things but this ranks right up there with them," Biggs said.

So although officers may not receive the justice they want for Jane Dog, they hope the immense response is at least an indication of awareness.

"I hope it will make people more aware of animal abuse," Biggs said. "It's a terrible thing, but if nobody reports it, we can't do anything about it."

Metro animal control said the children had no reaction when officers arrested them, although one snickered and laughed about the incident.

Two of the suspects are in custody while the other three are on house arrest. They'll go to court again later this month.

If these kids were adults and committed the same crime, they would face up to two years in prison. (News Channel 5)
There is even a petition asking that these 'children' aren't given just the usual 'slap on the wrist' as a sentence for this crime – PETITION
Email This Post
Like this post? Subscribe to my RSS feed and get loads more!