Father of Deployed Soldier Cited for Caring for Son's Dogs – VIDEO
Wednesday, April 16th, 2008 at 9:03 am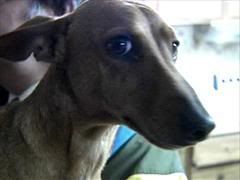 With all the stories of horrors and abuses, now we have a story of injustice against someone doing the right thing. Henry Carroll's son is a soldier fighting in Iraq, willing to give his life, the ultimate sacrifice and while his son is deploy, Henry made a promise to care for his son's beloved dogs.
This is where the problems begin! Cumberland County, NC officials say that Henry now has two dogs too many. He had three of his own and is caring for his son's two dog until his deployment ends in December.
"If my son's in Iraq, I can't watch his dogs according to the county," Carroll said.
Officials, even though they received a letter from Henry's son Adam's platoon leader stating that two of the dogs belong to Adam, are not buying it, as they say.
They said, "Since Adam didn't sign it, it really might not be valid because it was signed by his platoon leader."
They say that Henry is running a an unlicensed kennel although they seem to be having a difficult time in finding the proper codes to cite.
When he asked the county to clarify the definition of a kennel, he says he got several different answers.

"I said, 'I want to see the law I'm breaking; show it to me.'"

He said a county official gave him an ordinance, which defines a kennel as any place with eight or more where dogs or cats are fed, sheltered and watered."

But he says another county document sent to him defines a kennel as any premises where four or more dogs are kept commercially or as pets. (WOAI)
So now Henry Carrol is fighting to keep all five dogs and will take his fight to Cumberland County Board of Adjustment which meets this Thursday night.
Henry says that if he's forced to give up two of the dogs, he will give up two of his own beloved dogs rather than break the promise he made to his son who is defending his country.
What a damn shame!! I understand that laws are laws but exceptions can be made and in this instance, should be!
The following is the information that I have for the Cumberland County Board of Adjustment, might be nice for them to hear how we feel about the situation and if you live in the area, I'm sure that your support would be appreciated.
130 Gillespie Street, 1st & 2nd Floors of Old Courthouse
Fayetteville, NC 28301
Phone: 910-678-7600 · Fax: 910-678-7631
Father cited for caring for deployed son's dogs
Please help to get the word out on this.  Henry Carrol's son is willing to give his life for this country, do we have to do the injustice of forcing him to lose his beloved canine companions as well? 
Email This Post
Like this post? Subscribe to my RSS feed and get loads more!