Finally… Felony Charges for Dog Abuser and Torturer
Friday, December 5th, 2008 at 9:00 am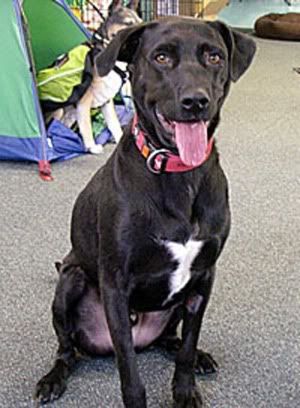 I've been following the case of Chance, the black lab that was found hanged and beaten on November 17 in Allegan County, MI, for weeks now as have many who were sickened and disgusted.
On November 17, a man Dorr Township man heard whimpering in the woods and when he investigated he found a the dog strung up with a steel cable, hanging from a tree and being beaten by his owner, 22 yr-old Jason Allen Williams. Upon discovery, Williams ran from the scene.
When he was tracked down and confronted by authorities, he had a ready excuse for his horrific actions.
"Initially the suspect stated there was an illness that the animal was suffering and he did not have the means for proper euthanasia, and that was his attempt at euthanasia, and it obviously didn't go well and he ran from the scene, knowing he probably would be in trouble for the methods he was using," said Lt. Mike Larsen of the Allegan County Sheriff's Department.
On November 20th, the County Prosecutor issued a warrant for misdemeanor animal cruelty for Jason Williams.
The misdemeanor charge would have allowed a judge to issue up to $1,000 in fines, 200 hours of community service, reimbursement for veterinarian care, possible psychological evaluation and to order an abuser not to own animals.
Chance has been recovering at Wishbone Pet Rescue in Saugatuck and is now in foster care. He is on pain medication and steroids for his injuries. He remains disoriented, possibly a sign of brain damage from the hanging, and a veterinarian determined the dog still has some kidney function after the poisoning. Still, the dog's long-term prognosis is uncertain.
The prosecutor initially believed evidence was lacking for a felony abuse charge and animal lovers had been outraged.
"I think it's disgusting they are going to slap his hand and let him go," said Lanie Mossey, president of Wishbone Pet Rescue in Saugatuck.
But all that has changed now. Further investigation had revealed that not only did Williams hang and beat for poor dog, he also poison him with antifreeze.  Allegan County Prosecutor Fred Anderson authorized a felony warrant for animal killing or torturing Thursday.
Around Thanksgiving veterinarian tests showed possible anti-freeze toxicity in Chance. Interviews with other people who knew Williams offered evidence to back up the vet.
"After the interviews, there is no question he put a half-cup of antifreeze into a bowl and let the dog drink it," Anderson said.
Williams now faces up to four years in prison.  He has no criminal record and no court date has yet been set.
I am not going to hold my breath for serious justice, it never much seems to happen but at least he has been appropriately charged and the possibility, though slim, is there.  I don't care what his excuse is, poisoning, hanging, beating…. c'mon, just how stupid is this guy to think that this could ever be acceptable in any way, shape or form??
That poor dog is just very lucky someone heard his whimpering pleas and he was literally rescued from the jaws of death.  He now, as his name says, has a chance, so I will be grateful for that although that doesn't even begin to lessen the anger over the moron….
Email This Post
Like this post? Subscribe to my RSS feed and get loads more!