Firefighters Mourn Loss of Mascot
Thursday, July 10th, 2008 at 7:45 am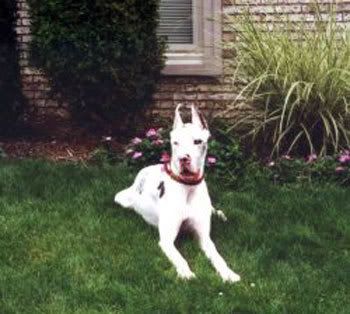 "He was just a good dog," Corye Ramsey of Monroeville Volunteer Fire Department No. 6 says. "More than a dog. He was one of our kids."
Ramsey is talking about Denver, the Great Dane that had been the firehouse's mascot until recently. At eight years old, Denver had underwent several surgeries and between complications and age, he had to be put to sleep.
Corye Ramsey remembers sitting on a couch at Monroeville Volunteer Fire Department No. 6 and hearing an animal welfare representative express concern that Denver, the department's mascot, didn't have a water dish.
"I said, 'He has a water dish,' " the deputy chief recalled. "I said, 'Denver, go get a drink.' "
The Great Dane walked to the water fountain, stood on his hind legs, pressed a button with his right paw and lapped from the stream of water.
"She lost it," says Ramsey about the animal welfare representative. "She said, 'All right, I'm done here.' And she never came back."
Denver was named after the "Denver Tool" used by firefighters to gain forcible entry into a structure.
He was introduced to firefighters and residents of Monroeville's Garden City neighborhood after a couple of the firefighters adopted him from Animal Rescue League in Pittsburgh.
The firefighters were kicking around the idea of getting a dog but worried about a Dalmatian because of that breed's temperament, Ramsey said.
Later that night, a friend called to let him know that Animal Rescue League had a Great Dane and wanted to find a home for the dog quickly because its food costs were high.
Shortly thereafter, the fire department voted Denver in as a member and used his paw print as his signature.
Ramsey says it was tough seeing Denver in his last days.
"When we had to put him down, that was really… . We knew he was getting sick."
The firefighters lowered their flag to half-staff and called Denver's name on the radio.
Denver's passing was the end for dogs at No. 6; another dog won't take his place.
"Never," says Ramsey.
Denver took to the fire station like he was born there, according to Ramsey, who says he liked to ride in the firetruck and wasn't spooked by fire calls.
"His tongue would be hanging out the window. He'd stay in the truck and watch."
Denver often was seen by residents of Garden City, because he'd escape from his handlers at the fire department.
From figuring out how to use "panic bars" on doors to figuring out how to make the station's garage door open, Denver had a knack for leaving to visit his friends in Garden City.
One was an older woman who always gave him doggie biscuits.
As the Animal Rescue League found out, Denver liked to eat.
For the firefighters, hiding food on top of the station's refrigerator became a habit born of necessity.
Ramsey recalls firefighters ordering pizza but having to answer a call. When they came back, everyone was hungry and eyeing the cardboard pizza box on the table — but they discovered it was empty.
The firefighters plan to erect a statue, which will contain Denver's ashes, in front of the station to commemorate their mascot. (Pittsburgh Tribune-Review)
This story just touched me and I wanted to share it with you. As most of you are dog owners and many have lost cherished pets in the past, you can identify with this so well. I know that I can. The memories, the reminiscences, all the funny and special little stories about your beloved canine companion. And of course the loss and hurt. But as time passes and the hurt eases, you always have the wonderful memories and even though your furry family member is no longer with you, they will live on forever in your heart.
Rest in peace Denver, may you live on forever in the memories of those who loved and cherished you.
Email This Post
Like this post? Subscribe to my RSS feed and get loads more!