Five Puppies, Starving and Abandoned – Reward!
Sunday, July 22nd, 2007 at 7:30 am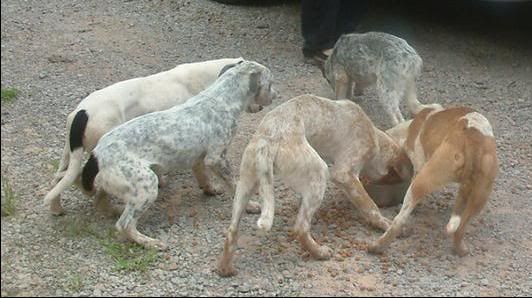 How could someone just dump 5 little puppies in the woods to fend for themselves? How could someone have so little heart not to care if these small innocent creatures lived or died?
Undersheriff Rick Ishmael and Captain Mike O'Keefe said they were at Sheppard's Point at Heyburn Lake and found five blue heeler puppies that had been abandoned on a gravel road.

"They just ran out of the woods looking for food," said O'Keefe.

"Their ribs were showing and they were obviously starving. With the summer heating up, these animals would not have lasted very long."

O'Keefe and Ishmael purchased food for the puppies, then called Oklahoma Alliance for Animals.

Ruth Steinberger with the Oklahoma Alliance for Animals collected the puppies in order to find homes for them.

Steinberger said the OAA will offer a $100 reward for information regarding the origins of the puppies and the individuals who abandoned them.

"Because of the number of puppies abandoned, the reward may actually go up," said Steinberger.

"When people dump animals like this it just creates more problems for other people in the county," said Ishmael.

"Then pretty soon you hear about animals attacking livestock."

Steinberger stated that 50 percent of Oklahoma has little to no access to an animal shelter. Therefore abandoning animals is becoming more and more common.

"If anyone has any information regarding the persons who dumped these unfortunate animals, please call the Creek County Sheriff's Office," said O'Keefe.

"We will be careful to keep personal information anonymous if you do report someone."

Anyone with information regarding the abandoned puppies can contact the Creek County Sheriff's Office at 224-4964.

Anyone interested in adopting the puppies can contact the Oklahoma Alliance for Animals at 742- 3700. (Sapulpa Daily Herald)
Do you live in the area? Do you know anything? If you do, care enough to let the authorities know! Anyone who could care so little about the sanctity of life could do even worse next time, don't let there be a next time!
Email This Post
Like this post? Subscribe to my RSS feed and get loads more!