Four Year Prison Sentence for Teen Who Sexually Abused Dog
Wednesday, November 26th, 2008 at 9:13 am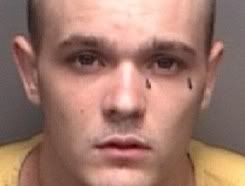 For once a real sentence has been handed down on a heinous animal abuse crime!  On July 30, 2007, then, 19 -yr-old, Nicholas Denmore was staying with his grandparents in St. Petersburg.
His grandmother saw him sitting outside and when he noticed he, he grabbed her little Yorkie, Dutchess and fled.  The tiny dog was found cowering and whimpering in a dumpster bleeding from the rectum.
Denmore was arrested for sodomizing the dog and charged with one count of animal cruelty to which he pleaded no contest in October.
DNA analysis of towels found with the dog showed traces of the dog's blood and Densmore's semen and a veterinary exam showed the anal area of the dog was torn.
Dutchess underwent surgery and has since recovered and is home with her family.
Although Densmore's family asked that he not be sentenced to prison, the judge in the case denied the request saying that home supervision has been tried and failed.
Pinellas Circuit Judge Nancy Moate Ley handed down a four-year sentence which will precede a year of probation during which Densmore will be psychologically evaluated and treated. He also has been ordered to undergo a 12-week anger management course.
Densmore, with an IQ of only 83 and has early stage schizophrenia has a long history of problems including substance abuse. State records show he has previously been arrested seven times, five of them as a juvenile. In August of last year, in his first arrest as an adult, he was charged with trespassing and resisting arrest. He pleaded no contest and received 60 days in jail.
I don't know if jail is the right place for the person, or a mental institution or what, but he is someone who definitely needs to be off the streets and out of society. I applaud Judge Ley for seeing the seriousness of what he did and taking the appropriate steps to remove him from society where he is a serious danger!
Email This Post
Like this post? Subscribe to my RSS feed and get loads more!