Fourth Dog Death at Happy Tails Groomer
Tuesday, December 2nd, 2008 at 9:04 am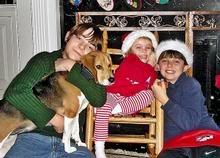 Update 6/3/09 – Indicted on Animal Cruelty, Happy Tails Pet Spa Owner Kills Wife and Self – VIDEO
Yet another sad tale at Happy Tails groomer in Knoxville, TN, a fourth dog has died while there for grooming.  Moxie, a 5 year-old beagle went to Happy Tails in Knoxville for a routine bath and grooming last Tuesday.  When Kim Ramsey's teenage son went to pick Moxie up, he was near death and did die very shortly thereafter while on the way to a vet.
"The explanation we were given is that she had a seizure and that sometimes it happens," Ramsey said. "We've been a customer there for several years and never had a problem."
Things get quite suspicious when a vet examination turned up broken ribs on both side of the dog's body and a punctured lung along with heat exhaustion all leading to the young dog's death.
"Moxie went for a bath and died of trauma," the family's veterinarian, Dr. Denise Frazier said. "That shouldn't happen without an explanation. The dog had evidence of severe blunt trauma. There's no evidence that the dog died from natural causes."
Erik Webb, co-owner of Happy Tails, tells a story of a consistently difficult dog who bit him.
"She got me pretty good," Webb said. "She went for my face and I let go of her — I did not fling the dog. I've done this all my life. I wouldn't be doing this if I didn't love these guys."
A necropsy also showed bruising inside one of the dog's ears and in the mouth on the gums.
"It looks like there were multiple points of trauma," she said. "Some sort of trauma was visited on this dog and she bled out" through internal hemorrhaging of the liver.
Webb basically blows it off as something that just happens.
There are alrea
dy three lawsuits pending against Happy Tails for dog deaths that happened July 2005, May 2007 and Jan. 12, 2008.
In January a healthy 20 month-old Lhasa Apso died, and of course Webb said Happy Tails had nothing to do witht he dog's dead.
In July of 2005 a 4 year-old Bichon Frise was the vicitm.  Owner Debbie Cash says, "Her eyes and her tongue had just been cooked and I mean her eyes…the corneas were completely dry. Her skin, the vet could take the fur and it would just come off."
"The vet said, 'Debby, we don't need to do an autopsy because it's very visible what happened to her. She died of heat stroke and heat exhaustion,'" Debby says.
In a letter, Dr. Lentz concluded Lola had severe external lesions, consistent with acute heat stroke. A pattern left on Lola's skin resembles what's called a groomer's grate.
In January of 2005 Rosemary Ministeri says she was told her two-year old American Staffordshire, "Brinnie," died at Happy Tails.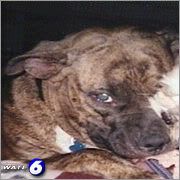 Rosemary recalls the conversation she says she had on the phone with Happy Tails co-owner Erik Webb while she was in Florida.
"I said, Erik, what's the problem? He said, 'Well Brinnie, is no longer with us.' And I said, excuse me? Brinnie is no longer with you? Where is she? 'Well, she's in my father's freezer.' I said, excuse me?"
"She died on the night of 13th or 14th before I got on the plane. They found her dead. They never told me and their reasoning was according to the owner, Erik, they didn't want to ruin the birth of a joyous occasion, my granddaughter, by calling to tell me my dog was dead," Rosemary adds.
Sounds to be that Erik Webb and Happy Tails has a lot to answer for and that should be immediately shut down.  Actually they probably should have been shut down before and another dog would have lost its life and another family would not be grieving right now.
How much does it take before someone says, "that's enough!"  How many need to die??
Email This Post
Like this post? Subscribe to my RSS feed and get loads more!