From Pound Puppy to Police Dog
Tuesday, October 28th, 2008 at 6:50 am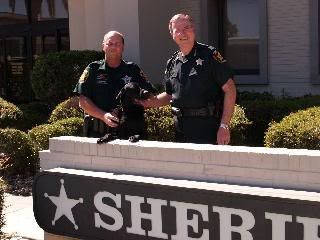 The Polk County, FL Sheriff's Department didn't have the money to buy a trained drug dog for their department so Deputy John "J.D." Maney, a 26 year veteran and experienced dog handler, decided to take matters into his own hands.
In March, Maney went to the pound to find a dog to train himself. He looked for certain characteristics; alertness, lack of fear and an eagerness to learn. After turning down several dogs, he found on that e felt fit the bill perfectly, an 11 month old black lab. Maney named his newly adopted pooch Redazu and the training started.
For the next twelve weeks Maney trained Redazu wherever he could, an abandoned phosphate mine property, open fields and his back yard, detecting such illegal narcotics as methamphetamine, cocaine, cannabis, and heroin.
Redazu was a natural and fast learner and on August 5 Maney took him to be nationally certified through the North American Police Work Dog Association. Rezadu passed and is now NAPWDA certified.
Like most all K-9s and their handlers, Redazu and Maney have built a special bond, probably even more so in this case.
"People tell me that Rezadu is a lucky dog, because I rescued him and made him my partner, but I tell them that I'm the lucky one," says J.D. in a release. "Rezadu is a one-of-a-kind."
What a great story!! Instead of spending $5000 on a trained narcotics dog, a pound dog has been rescued and more than just given a second chance, he's been given a job, a mission and will no doubt repay Maney and Polk County more than they could have ever imagined.
Go Redazu, take a bite outta crime!! 😀
Email This Post
Like this post? Subscribe to my RSS feed and get loads more!