Furry Four-Legged Hero Finds Missing Boy
Sunday, December 7th, 2008 at 8:35 am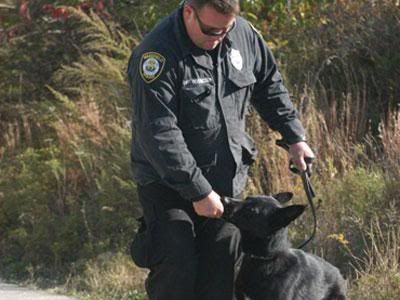 If not for a dog's great nose and some good training, the story of a 12 year-old boy lost in the freezing woods in Wakefield, MA may have had a tragic ending.
Reported missing by his mom about 6 pm Friday evening, Officer Brett Rossicone and his dog Leo began their search for the boy in the woods behind their boy's home. It was dark and the temps were dropping quickly into the 20s. If the lost boy were not found that night, daylight might bring a tragic ending.
Carrying a flashlight to avoid danger in the dark, Officer Rossicone and Leo ventured into the dense woods.
"They thought he went out behind the house in the woods somewhere," Rossicone said. "I started a track with him. Basically, he tracks human oil, fresh human oil. Leo here picked up the track."
"When he picks up the track he starts pulling real hard," Rossicone said.
About 2 hours and a mile later, the officer saw something, a backpack and shirt. The boy was burrowed into a pile of leaves and debris, sleeping.
"He was asleep," he said. "I woke him up. I asked him his name. He was a little out of it. At that point I radioed other units."
The boy was taken to a hospital by ambulance, checked out and pronounced fine and reunited with his relieved and grateful mom.
"I am extremely happy that we had a positive outcome," Wakefield police Chief Rick Smith said. "There is no doubt that with the cold temperatures we could have had a different result if the boy had not been located."
Way to go Officer Rossicone, Wakefield PD and of course Leo, the furry four-legged hero!
Email This Post
Like this post? Subscribe to my RSS feed and get loads more!