Furry Friend to the Stars Loses Fight with Cancer
Wednesday, May 28th, 2008 at 9:40 am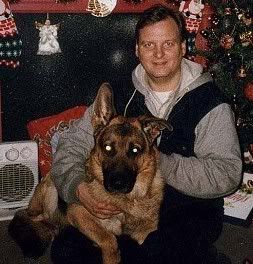 Photographed with everyone from George Clooney and Danny DeVito to John Travolta and Elle McPhearson and just about everyone in between, you wouldn't know that Oscar started out as a scared, whimpering , malnourished puppy tied and abandoned outside a notorious drug dealer's house in Paddington, west London more than a decade ago.
When Dennis Gill found the less than a year old German Shepherd puppy on May 5 1997, Oscar was a picture of neglect and abuse and Dennis wasn't in much better shape himself. Dog and man turned out to be each other's salvation and their story is a true rags to riches story.
Dennis was down on his luck, to put is mildly. Due to a brutal beating and mugging, Gill could no longer work and found himself unemployed and homeless in a deep state of depression.
"I had a hole in my heart, and somebody would have to fill it," said Mr Gill, 47. "I saw this little puppy covered in oil and poo tied up by rope. He was clearly very undernourished and I knew that the people who lived inside were drug dealers, so I went home and got a knife and set him free."
The rest of the story reads almost like a fairy tale.
Selling The Big Issue to make ends meet, Mr Gill was walking past the Metropolitan Hotel in London's Mayfair later that year when he noticed a number of photographers snapping away. Curious, he asked what the commotion was about only to see Jack Nicholson emerging from the foyer seconds later. Before he knew it, Nicholson had befriended Oscar, and Oscar, then still only a puppy, tried to leap into his chauffeur-driven car.

"He loved jumping into cars," said Mr Gill. Pictures of Nicholson with the German shepherd puppy appeared in several newspapers the following morning, and Mr Gill, still selling The Big Issue, decided to make a habit of turning up at the Metropolitan, where "the receptionists and valet drivers loved him [Oscar] nearly as much as I did". (The Independent)
Over the next decade celebs lined to up have their pictures snapped by Gill with the photogenic pooch. Oscar's own star status grew and he charmed most everyone. he had his picture taken with over 1000 top names, from celebs to sports figures to music industry biggies.  Almost no one was immune to his charms.
"He was the most gentle, warm, kind and loving person I've ever met," said Mr Gill, who was bought several cameras by the News of the World and has since made a career as a professional photographer. "He just loved people. Old ladies adored him, young people were never frightened of him – even little kittens asked him for a cuddle."
Sadly, over the past couple of months, Oscar's health began to deteriorate and when Gill took him to the vet he was diagnosed with cancer. Gill was told that Oscar had only a few weeks to live. This past Sunday, the stargazing pooch died in Dennis Gills arms around 3:30 in the afternoon.
'My beautiful dog died in my arms at 3.30pm. I took him home and laid him on the bed on a clean sheet. I'm very religious so I put a crucifix and a St Christopher around his neck. I lit 12 candles for every year we'd had together.

'Then I wrapped him in a blanket that my mother, who is now dead, had as a child and I drove him up to Doncaster to bury him on land owned by my sister. I put a photograph of the two of us in the casket with him.'

Well, Dennis admits he is sentimental. In a further eccentric touch, he put his passport in the casket, too, so that if Oscar is ever inadvertently dug up there will be no doubt who his owner is and who to contact.

'I sprinkled soil on the casket and said a prayer. I cried and cried.

'I'm devastated that he's gone, I will miss him so much. Oscar was truly my best friend and he gave me a second chance in life that I didn't think I would get.' (Daily Mail)
Oscar is survived adopted son, Valentine, also a German Shepherd puppy, and of course his beloved companion Dennis Gill who will never forget him. No doubt some tears are being shed by the many celeb admirers he had as well.
Email This Post
Like this post? Subscribe to my RSS feed and get loads more!