Gang of 4 and 5 Year Olds Savagely Beat Puppy Almost to Death
Monday, April 28th, 2008 at 8:41 am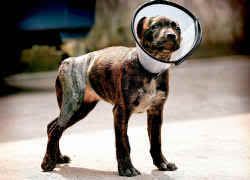 What the hell is wrong with children today?! There's something seriously wrong when you find a gang of children, barely more than babies themselves, 4 and 5 years old, beating a tiny puppy to within an inch of its life!
The RSPCA in the UK is investigating a case in which a group of children armed with sticks savagely beat a 10 week old stray puppy until they were disturbed by a passerby.
The unnamed good Samaritan saw the children beating something on the ground with stick and was stunned to find a quivering, whimpering puppy hurt and in pain. He chased the youngsters off before taking Meg to Rochdale RSPCA centre.
Staff there say it is the most shocking incident of animal cruelty they have ever seen.
Manager Jean Spencer said: "The man came here straight from picking her up. He was in two minds whether to catch the children or rescue the puppy."
The puppy needed immediate lifesaving surgery and there's still a question if one of her legs can be saved due to the grievous injuries.
Jean said she was stunned by the attack, which happened last Tuesday at about 4pm.

"The age of the children makes it absolutely sickening – they should know the difference between right and wrong.

"I can't say what has happened to them and who has told them to behave like this. Perhaps they've seen an older person kicking a dog. If they're behaving like this aged four and five imagine what they will be like when they are 14 and 15."

Jean has adopted Meg, who is thought to be a stray.

Because of the extent of her injuries, she is recovering in a cage for her own safety and faces an anxious six-week wait to see if her leg has been saved.

Jean said: "She's absolutely gorgeous. A little sweetie – and I don't know how anyone could do that to her.

"She's very upset and regularly whimpers with pain. All she wants is to be hugged, kissed and cared for. It's beyond belief how children of this age could have brought themselves to hurt her."

She said staff are trying to trace the Good Samaritan for a further description of Meg's attackers. (Manchester Evening News)
You've got to wonder what these little monsters could have possible been thinking. To be at such a young tender age and to have so much anger, hate and aggression already, what are they going to be like in a few years? It truly frightens me knowing that children like this are the future of society and the world!
Email This Post
Like this post? Subscribe to my RSS feed and get loads more!