Glynn Johnson – And the Verdict is…. GUILTY! YES!
Tuesday, January 26th, 2010 at 3:00 pm
I know that, like me, many of you have been following Glynn Johnson's brutal killing of 6-month-old puppy, Karley, from the beginning, hoping and praying for justice.  Well, we are one step closer to justice for Karley with Johnson's guilty verdict today!!  Yes!  After less than 3 hours deliberation the jury returned a guilty verdict on both counts, felony animal cruelty and a sentence-enhancing allegation of using a deadly weapon against the puppy.
Johnson faces up to 4 years in prison. Sentencing is to take place on March 8.
Needless to say, the Toole's are pleased with the verdict;
"It's very emotional. We knew all along he was guilty, but you have to convince 12 jurors of that and … they were right and justified to come to that verdict," said Shelly Toole.
"We're just very happy that this stage is done," added her husband, Jeff Toole. "We knew all along what Glynn was guilty of. It won't bring Karley back, but justice will be served, and our family can move forward."
Now we just have to wait and see if there will be a true Justice for Karley. I don't hold my breath for a max sentence although that would be nice even though that doesn't even come close to justice for the cruelty and suffering Johnson inflicted on an innocent puppy, but I sincerely hope for more than a "slap on the wrist" sentence.
During the trial, Johnson's lawyers spoke about his years of service and dedication as a firefighter, wonder if they bothered to mention all the problems and trouble that surrounded him for years that showed in many comments from fellow firefighters shortly after this horrific incident. Wonder if they mentioned that a group of retired LA Firemen have created a fund to help with legal expenses for the Tooles.  That's right, the Tooles, not Glynn Johnson.  That kind of says something in itself when rather than back and support "one of their own" they are actually supporting the family who is bringing charges against a fellow firefighter.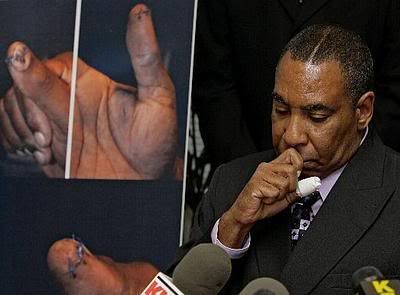 There is no defense for the brutality Johnson inflicted on Karley. He says that Karley was a "vicious" dog that attacked him and latched onto his thumb, practically severing it, talked about bites to his arms, hands and legs. Now remember, this was a 6-month-old puppy and Johnson didn't even have to insinuate himself into the situation at all. The Toole's neighbor was carrying the puppy back home when Johnson intervened and this was after problems and complaints between the Toole's and Johnson.  Why would he go out of his way unless…. well, you think about it and see what you come up with.
So even if you actually believe Johnson's story, that the puppy "latched onto his thumb," no one put him into the position but himself by taking Karley.
And Karley… Karley was brutalized, she suffered a broken jaw, nose, crushed skull and lost an eye. The vet said she would have faced permanent brain damage before the family decided to put her to sleep.
"I've never seen a dog come in with that level of head injury," said Dr. Howard. "I've seen pets who have been hit by cars and they were thrown by the car and suffered fractures to the nose or skull but I've never seen a case where their head was that badly damaged."
Johnson and his lawyers called the Toole's neighbors from hell but they are not the ones who have complaints against them for everything from putting dog feces in neighbors' mailboxes, threatening other neighbors' pets, shooting and blinding a neighbor's dogs, just to mention a few things.
Yes, I think we all know who the neighbor from hell was, this monster who brutally beat a puppy out of some kind of vengeance or vendetta and now the whole world knows him for the guilty waste of human life he is.  We can only hope that justice will truly be served for Karley!
Background
Puppy Brutally Beat, Self-Defense Claimed – VIDEO
Sheriff's Office Recommends Charges Against Fire Chief, Glynn Johnson
Puppy Killer, Glynn Johnson, Arrested… Finally!
Glynn Johnson's Puppy Killing Defense – VIDEO
Puppy Killer, Glynn Johnson Pleads "Not Guilty"
Puppy Killer, Glynn Johnson, Suing the Owners of the Puppy He Killed
Preliminary Hearing for Puppy Killer, Glynn Johnson, Under Way
Glynn Johnson to Stand Trial in Brutal Puppy Beating
Email This Post
Like this post? Subscribe to my RSS feed and get loads more!