Glynn Johnson to Stand Trial in Brutal Puppy Beating
Saturday, May 2nd, 2009 at 8:08 am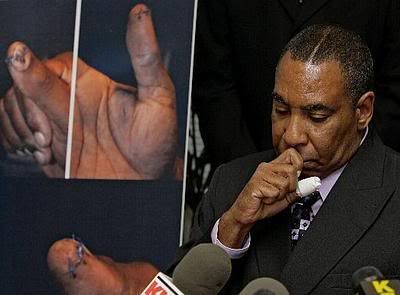 On Friday, after a highly emotional 3-day preliminary hearing, Riverside County Superior Court Judge Craig Riemer ordered Glynn Johnson to stand trial in the brutal beating of Karley, his neighbor's 6-moth-old Shepherd mix puppy. Karley had to be euthanized due to the extreme severity of her injuries.
"There's lots of conflicting evidence here and questions about the accuracy and truth presented in this case that needs to be answered for a jury," Riemer said.
Riverside County Deputy District Attorney Will Robinson called Johnson a liar during the final day of testimony, referring to conflicting testimony Johnson made about the incident as well as saying he had no previous conflicts with his neighbors.
"There's pretty compelling evidence for animal cruelty here. Even if she did bite him, what he did was a brutal attack that goes beyond self-defense," Robinson told the judge after testimony ended. "This was a premeditated attack after he was annoyed with the dog getting loose on his property. He went down there to teach Karley a lesson."
Of course Johnson's attorney denied all accusations, saying the prosecutor's case was thin and flimsy, saying that Johnson was only defending himself from the puppy's attack. He told the court that they were discounting Johnson's serious bite injuries and he actually had the audacity to state that he was offended by the case because Johnson was bitten on his own property.
"There's no question Mr. Johnson was bitten severely. He suffered multiple dog bites," Sweeney said. "I'm very offended by this case. This man was bitten on his own property. His injuries have been discounted by the prosecution."
Well, if Johnson wouldn't have taken the puppy from Travis Staggs, the neighbor who was taking Karley home in the first place, this would never have happened. There had been a history of problems and "bad blood" between the neighbors so when Johnson said he was being a nice guy by taking the puppy, that's just BS! He'd already been accused of shooting another of the Toole's dogs in the eye with a BB gun as well as shooting at other neighbors' dogs with a BB gun. There were other allegations that Johnson threw rocks at neighbors' dogs, used a bull horn to scare them, threw feces on the Toole's driveway, etc., all of which he denied, maintaining that he had a good relationship with the Toole's and other neighbors.
Johnson, who is free on $10K bond was ordered to return on May 15 for a preliminary hearing. The trial is expected to begin this summer. His lawyer has stated that he may request a change of venue in the case.
Now we can only hope that when this does end up in front of a jury, they will see the cruelty and sheer viciousness of the crime this monster inflicted on this puppy, a puppy that probably bit Johnson while she was struggling and fighting for her life as Johnson beat her with his fists, a large rock, pried her jaws open, breaking them and more.  Karley was left with a crushed skull,broken jaw and 11 fractured teeth as testified by a vet who examined her.
One of the most telling statements to me is one that the vet made after examining Karley, it shows how extremely brutal and vicious the attack was;
"I've never seen a dog come in with that level of head injury," said Dr. Howard. "I've seen pets who have been hit by cars and they were thrown by the car and suffered fractures to the nose or skull but I've never seen a case where their head was that badly damaged."
Justice for Karley!!
Previous stories:
Preliminary Hearing for Puppy Killer, Glynn Johnson, Under Way
Puppy Brutally Beat, Self-Defense Claimed – VIDEO
Sheriff's Office Recommends Charges Against Fire Chief, Glynn Johnson
Puppy Killer, Glynn Johnson, Arrested… Finally!
Glynn Johnson's Puppy Killing Defense – VIDEO
Puppy Killer, Glynn Johnson Pleads "Not Guilty"
Puppy Killer, Glynn Johnson, Suing the Owners of the Puppy He Killed
Email This Post
Like this post? Subscribe to my RSS feed and get loads more!