Good News for More of the Rescued TN Puppy Mill Dogs – VIDEO
Tuesday, July 1st, 2008 at 8:31 am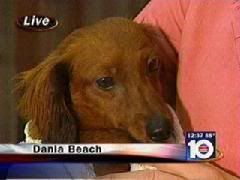 More of the dogs and puppies rescued last week from the Pine Bluff Kennels will be getting a second chance at a new life and forever homes in Florida.
More than 100 dogs arrived yesterday at the Broward Humane Society in Dania Beach. The SPCA of Tampa Bay received 100 of them. Peggy Adams Animal Rescue League/Humane Society of the Palm Beaches received 31 of them.
They say the dogs are in better condition then expected but it's still horrible. They're dirty, fur matted, some of the dog are matted together, many are dehydrated and malnourished, some have medical problems and birth defects from overbreeding.
"Most of these animals were used specifically for breeding. We're talking small dogs –yorkshire terriers, chihuahuas, poodles, and sadly, they are breeding animals that are kept for one purpose — to produce puppies. The conditions that the animals were taken out of were horrific," says Peggy Adams Animal Rescue League Executive Director Joan Radabaugh.
Since the owner of Pine Bluff Kennels, Patricia Adkisson, surrendered the dogs, they will be able to be adopted when they're ready. The organizations expect to be able to start adopting the dogs out to new homes and families from this week thru the next few weeks but first they need to be bathed, clipped and vetted. For some of them it will be longer due to more serious medical problems.
Investigators at the Pine Bluff property also found a pit but the buried remains of a dozen dogs that had been shot. That's just one of the things that happens to puppy mill dogs when they're too old or they don't produce.
About 150 of the dogs and puppies made their way to the Atlanta Humane Society. The rescued dogs are being placed in shelters and rescues in 4 states to accommodate the number of dogs.
For the first time in their lives they will know the kindness of human touch, plenty of food and water, playtime, being clean and so much more. It will take time for many of them to adjust but many of them are enthusiastic and excited. They so deserve this!! Just seeing some of the videos, them walking around, curious and interested, makes you smile.
Now we just need to wait while a strong legal case is put together against Patricia Adkisson. Hopefully this time, she will get what's coming to her! Last time she wriggled out due to technicalities. This time I'd like to see her in a cage!
Tennessee Puppy Mill Dogs Go to Tampa Bay
Email This Post
Like this post? Subscribe to my RSS feed and get loads more!