Great News! 1000 Dogs Rescued from West Virginia Puppy Mill – VIDEO
Tuesday, August 26th, 2008 at 7:48 am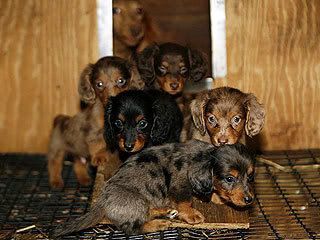 This one definitely falls in the good news category! About 1000 dogs in a Parkersburg, West Virginia kennel, Whispering Oaks, owned by Sharon Roberts since 1961, are finally going to get a taste of freedom and a chance at a life and love and forever homes.
Wood County deputies discovered the dogs Saturday while executing a warrant at Whispering Oaks Kennels in their investigation of possible dog-related pollution.
"You simply can't describe the overwhelming smell of the ammonia, the feces," Deputy Robert Sims of the Wood County Sheriff's Office said of the dog runs. "And these were kept decently clean. But still, the smell was just horrible."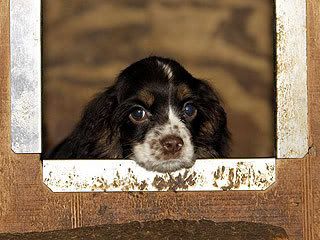 In a combined effort, the Humane Society of Parkersburg, Best Friends Animal Society and the Humane Society of the United States, worked over the weekend and into this week to remove approximately 1000 dogs and puppies from the kennel.
The dogs, most of them dachshunds, Chihuahuas and poodles, as well as other small breeds, were confined sometimes four or five to a cage measuring just 2 feet by 3 feet.
Kennel Owner, Sharon Roberts, claims she's the victim of a witch hunt and that she and her five employees take good care of the 1000 dogs.
"They said 'If you don't voluntarily give up the dogs, we will arrest you and put you in jail and charge a fine for each dog here,'" Roberts said. "What would you do?"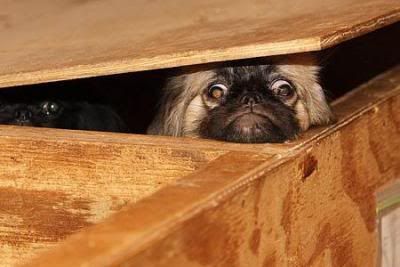 Conditions at the puppy mill were not the worst ever seen and the dogs were in generally decent condition, health-wise, but there is no way 6 people can care for that many dogs.
The dogs were found housed in rabbit-like hutches, wire floored cages with numerous dogs to a cage.
"Many cages had feces in them," Rich Crook, rapid response manager for Best Friends said. "All had poor ventilation. The sheer number of animals was overwhelming, and the odor of urine in 90-plus-degree heat was stifling."
"Imagine you live your entire life inside your house — one room inside your house — and you never leave it," Maryann Hollis, director of the Humane Society of Parkersburg. "Once a week, somebody dropped groceries at your door. That's what life was like for these dogs — just one room, wire mesh, and you pooped where you slept."
"Some of them, you put them on the ground and they don't know what it is because they've lived their entire life on wire mesh," said Sims.
Hollis said some of the dogs looked well fed, but that she's "seen some where the spine's been showing."
"You have to understand, in an environment with four or five in a kennel, they're competing for food," she said. "They become a pack … fighting for resources."
Samples have been sent to a lab and investigators are awaiting an analysis to determine whether to issue citations for environmental violations. No animal neglect charges will be filed because of Roberts' agreement to give up the dogs and get out of the dog-breeding business.
Most of the animals which range in age from day-old newborns to several years old were in relatively good health, although Hollis said there are a few that look to be suffering from mange, hypoglycemia and heat exhaustion. One dog is partially paralyzed, but the Best Friends Animal Society has committed to taking care of it for the rest of its life and is outfitting it with a cart so that it can get around, Hollis said.
The animals have been temporarily moved to a Parkersburg warehouse. Each must be seen by a veterinarian and vaccinated before being taken to rescue sites across the country for rehabilitation.
In addition to housebreaking them, the dogs must be socialized before they can be put up for adoption, said Hollis.
"These dogs have never been outside of that environment. Everything is new to them," she said, explaining that experiences such as car rides and going for walks on a leash are foreign to them.
It's estimated that the whole operation is going to cost in the neighborhood of about $200,000 to vet, clean and care for the dogs to prepare them to be adopted. Adoptions aren't expected to start for at least a week. All of the dogs and puppies will need to be seen by vet and cleaned up at a minimum. Many will need to have some training and socialization alone with as much TLC as all the volunteers can muster!
What a great day it must have been for these dogs! Although they are no doubt very scared right now, they will soon learn that there's much more to life then a little cage and being bred again and again.
Parkersburg Puppy Mill Rescue – HSUS
Parkersburg Puppy Mill – Best Friends Society
Parkersburg Puppy Mills Rescue – Post Rescue
Email This Post
Like this post? Subscribe to my RSS feed and get loads more!