Great News – Abandoned Pitbull, Cola, Headed to a Rescue!
Thursday, November 13th, 2008 at 8:32 am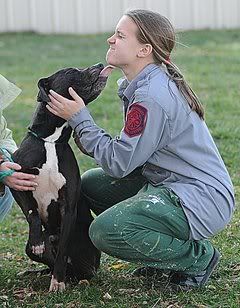 You remember Cola, the pitbull that was left in as abandoned house for about a year, then when he was rescued from that situation, neglected and emaciated, he went to a shelter where, after his owner was convicted, he faced almost certain death?
Well, due to the diligence and caring of a number of people and the interest of many dog lovers, Cola's story will have a happy ending!
In April of 2007, Cola's owner, Jamie S. McGregor, moved out of the house at 3405 N. Michigan, Saginaw, MI, but he left Cola, a beautiful black and white pitbull there. Periodically someone would show up and feed him but his existence was, no doubt, sad and lonely. Neighbors actually picketed the house because Animal Control couldn't do anything since the dog was not in distress.
Finally, in April 2008, authorities stepped in and took action. Cola, who was by then emaciated and dehydrated, was finally rescued from his solitary confinement.
Sounds like all was well for Cola, right? Not so. Unfortunately, the Saginaw Animal Care Center doesn't adopt out pit bulls and if his owner were found guilty, Cola could no go back to him.
And yes, after abandoning Cola for a year, his owner, Jamie S. McGregor, actually did try to get Cola back. Absolutely ludicrous!
Anyway, McGregor was found guilty, given the usual 'clap on the wrist' sentence and now Cola's fate was really up in the air.
Then in stepped Richard C. Angelo Jr., a Bloomfield Township lawyer representing the animal law section of the state bar, working with former Animal Care Center Director Mark A. Wachner, to try to get a reprieve for the sweet dog who had already been through so much. Their plan was to have him transferred to a rescue where he would be safe and eventually have the opportunity to find a forever home.
Great news, Cola will very soon be transferred to Colorado Pit Bull Rescue near Denver, CO.
The once emaciated and neglected pooch is now a respectable 53-lbs and quite spunky.
"He was not euthanized. I'm in the process of arranging his transfer to Colorado. I expect it to happen in next couple weeks,." said Richard C. Angelo Jr.
Cola needs to get his shots but in a couple of weeks he will be on his way to his new home and a chance at a new life!!
I've been following this story for more than a year now and I couldn't ask for a much better ending to Cola's story than this. Cola, good luck and may you find your forever home with comfy couches, lots of tennis balls, great food and plenty of treats, and all the love and attention you could ever want!!
Email This Post
Like this post? Subscribe to my RSS feed and get loads more!