Guilty Charges Upheld for Carroll County Breeder, Junior Horton
Wednesday, July 30th, 2008 at 9:45 pm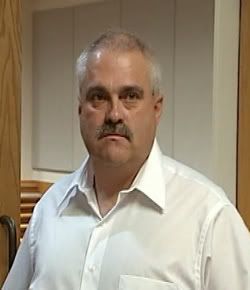 Junior Horton, owner of Horton's Pups in Hillsville, VA is known for running one of the biggest puppy mills in Virgina and the November 2007 raid, made him notorious and vilified. Charged and convicted on 40 charges: 14 for animal cruelty, 25 for animal neglect and one for failure to obtain a dog license, Horton got what I would call a slap on the wrist sentence.
The judge in the case, General District Court Judge Edward Turner suspended 12 years of jail time for the misdemeanors and suspended much of the fines associated with the criminal charges. For the 14 counts of cruelty, he suspended $2,250 of each of the $2,500 fines. For the 25 counts of neglect, he suspended $450 of each of the $500 fines. He imposed the mandated $25 fine for the charge of failing to obtain a dog license. The total for all fines amounted to $4,750.
Over 700 of the over 1000 dogs seized from Horton were rehomed but Horton can still run his business although with no more than 250 dogs.
Not satisfied, Horton appealed his conviction but thankfully Circuit Court Judge Brett Geisler upheld the lower court's ruling and imposed the same sentence.
Horton also will have to pay Healing Springs Animal Hospital for the care it gave some of the animals. That amount has not been determined.

Horton is limited to 250 animals, and his business is reportedly being inspected often.

If he is charged and convicted again, his suspended sentence could be revoked, meaning he could face jail time or have to pay more of the nearly $50,000 in fines.

Horton's case brought national attention to the problem of puppy mills in Virginia, which led to passage of legislation to crack down on the industry.

House Bill 538 was adopted by the Virginia General Assembly in March, putting stiffer regulations on commercial dog breeders across the state. (Roanke.com)
I cannot believe this piece of shit!! He got off way too light and he's still pissing and moaning. I'm sorry but his ass should be sitting in jail and all of those dogs should have gotten out of their prison!! If I were the judge I would have imposed a much harsher sentence just for having to deal with him and have him waste taxpayer money and time for more of this BS!!
Oh, and this real winner thinks he got a raw deal and says that he will never give up breeding!
"Junior" Horton, of Horton's Pups,says, "Justice wasn't served, I got a raw deal."

Animal advocates say they also don't think justice was served.

They say Horton deserved jail time.

Kathy Poole, of the Floyd County Humane Society, says, "It was so obvious he was guilty the suspended sentence annoys me because we didn't have a dog go through our line that didn't have at least dental problems there were many health issues that really upset me."

The judge is allowing Horton to continue operating "Horton's pups" but with only 250 dogs. But a new law that takes affect in January prohibits anyone who's been convicted of animal abuse from running businesses like Horton's. So, Horton really only has 5 more months to legally operate his business.

Despite the new law— Horton and his family tell wsls 10 On Your Side that they will continue to breed and sell dogs.

Mollie asks: "Do you plan to raise dogs in the future?"

Horton replies, "Probably, hope so, we'll never quit, never."

Upon hearing that—animal rights advocates were outraged.

Poole says, "Somebody should put a stop to that man!."

Horton has the right to appeal his case a second time—an action he's considering.

Tony Horton, Horton's brother, says, "If you want to own a business i suggest you don't open it in Hillsville cause if they see you making money they'll come in and take it away from you."

Mollie asks, "Do you think that's why they shut you down and not animal cruelty?"

He replies, "This is communism, this is communism is what it is."

Horton's father says, "We did all they work raising them and they come and take em."

Horton has 30 days to make a decision on whether he'll appeal. (WSLS)
Can you believe this!? He defies that law, tortures animals and then complains when he's caught. They are the ones who are killing in the name of the almighty buck!
Email This Post
Like this post? Subscribe to my RSS feed and get loads more!