Has Dancer Lost the Title of World's Smallest Living Dog to Ducky?
Tuesday, June 19th, 2007 at 5:37 pm
Many of you who have been reading for a while are probable familiar with Dancer, the tiny Chihuahua who was aiming for the World Record of Smallest Dog.
Dancer was officially measured on June 8, his first birthday, and his mom sent the paperwork off to Guinness and since it generally takes 4-8 weeks she hasn't officially heard anything yet.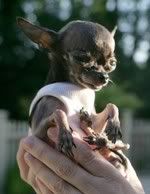 Well looks like there's news that Dancer may not set the official record. 🙁 Another Chihuahua, Ducky, of Charlton, MA, may have, at 4.9 inches, already captured it.
Ducky's owner, Lisa Messier, who bought the now almost 3 yr old dog when he was 13 months old, spent $600 for a fast-track review by Guinness World Records.
The Boston Globe says of Ducky, 'He looks like a wingless bat, quacks like a duck, lounges in a car seat, and naps in a baby's playpen. Occasionally, over his perky ears and bulbous eyes, he wears a suede bomber jacket and crystal necklaces.'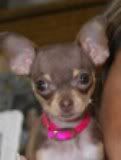 But let's not forget about another up and comer, Chiqulla, a 3.5 inch Chihuahua out of New York. Now Chiqulla still has to wait until December for her official measuring which mean she still has some growing time.
Jenny Gomes, Dancer's mom says if Dancer falls shy of taking the official record that's ok with her, "Oh, well, it wouldn't bother me. It's just a piece of paper. Dancer's still the cutest."
Email This Post
Like this post? Subscribe to my RSS feed and get loads more!