Haskett Gets 30 Day for Brutal Dog Killing
Thursday, December 18th, 2008 at 9:11 am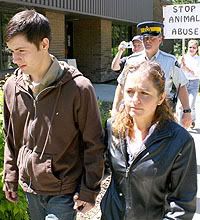 An animal abuse case that has dragged on for more than two years finally comes to an end. After postponement after postponement after postponement, Daniel Charles Haskett, who along with a friend, pleaded guilty to brutally torturing a family dog, Daisy Duke was finally sentenced… to a mere 30 days of jail which he will be allowed to serve on weekends.
On October 7, 2006, Didsbury, Canada, Daisy Duke, Haskett's family dog,  was found by passersby after the rope Haskett and a friend had tied around her neck to drag her broke. She had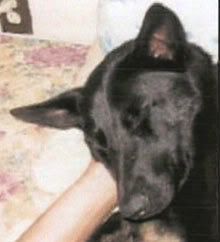 her muzzle taped and all four legs duct taped together, a plastic bag over her head, she'd been beaten with a shovel, tied behind a car and dragged, run over a second time which is how the rope broke, her neck, back and pelvis were broken… all in an attempt to kill her. When she was found, the poor dog was still alive, grievously injured, in unbelievable pain, but still alive, even if just barely. She was euthanized on scene by a veterinarian.
Haskett claimed he was just trying to euthanized the dog after his friend had hit her with a vehicle and they didn't want to get in trouble.  They were planning to just dispose of the dog's body.
The judge also handed down a year of probation and a year probation.
Prosecutor Gord Haight asked for a 3-5 month sentence along with a two-year prohibition against Haskett from owning any pets but I guess the judge didn't think the crime was all that serious, based on the sentence.
"I'm glad that at least some period of jail is being served by Mr. Haskett," Haight said.
"I think it sends the message loud and clear that it's just not a concern, animal abuse is not a concern," Didsbury resident Tamara Chaney, who launched a petition calling for tougher animal abuse laws that garnered more than 110,000 signatures, said.
Daisy Duke suffered a prolonged torturous death at the hands of two selfish, uncaring bastards and they both get nothing more than a slap on the wrist.  And Haskett has whine that he is being harassed and just wants people to leave him alone.
Awww… poor baby. Wonder if her thinks about what poor Daisy wanted as she was beaten, strangled and dragged? His lawyer talks about how hard this whole thing has been on him.  What freaking hypocrits!! I hope he is harassed for the rest of his life. What a joke! He expects sympathy.  What sympathy or compassion did he show?
To say that I am disapponted about this would be putting it mildly.  In the end, as usual, I guess it was another case of "it's just a dog."
Email This Post
Like this post? Subscribe to my RSS feed and get loads more!