Have You Seen This Dog, Snickers? Lost in Golden, CO
Tuesday, July 24th, 2007 at 4:31 pm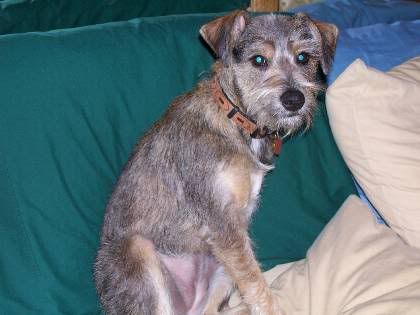 Losing a dog is a terrible thing and even worse when is happens away from home. Please repost this story and get the word out, I am sure Snickers wants to go home!!
My sister is visiting from Oklahoma.

She brought her 1 1/2-2 year old schnauzer/Jack-Russell mix named Snickers with her. I took Snickers with me to make some copies. She was in the front seat of the car with windows down.

She was seen jumping from the car. She was last seen at 19th and East St. My sister is devastated and I feel horrible for causing this sense of devastation. I really hope to find this dog before she leaves for OK on Friday but just simply want to find her dog.

The dog is microchipped and tagged with her rabies tag as well as personal info. Who knows where this dog will show up or when but your help is needed.

We hope others in the Golden area will help us find Snickers. I am attaching a picture of Snickers should you be able to help us.

I have posted a $100 reward for her safe return. We ask that anyone with information regarding her either contact the City of Golden Dispatcher or call me direct at 303-250-1077. (The Hub)
Email This Post
Like this post? Subscribe to my RSS feed and get loads more!