He Treats His Dogs Like Trash But Who Is Really the Trash?
Monday, February 4th, 2008 at 5:57 am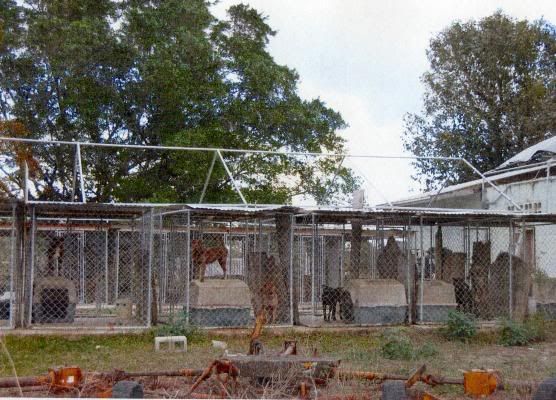 If he sold the dogs, it would be a 'puppy mill.' If he sold the dogs, Palm Beach County officials could do something about him!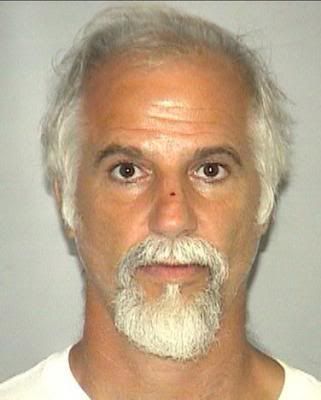 James Marinakis breed dogs. He's working on what he hopes might be the next designer breed, a mix between the mastiff and Shar Pei and trying to get the 'hybrid' recognized by the AKC. Marinakis calls his new breed 'Centurians.'
What's he's really doing according to officials is creating problems, dogs with severe medical problems and he refuses to get veterinary care for them. He adding to the already overwhelming pet overpopulation problem and they can do only so much to Marinakis.
See, here's the problem; Marinakis has got pairs of caged dogs scattered all over his property, males and female pairs, in horrendous conditions in the
Florida heat, breeding again and again. Sounds like a puppy mill, right. Well, the thing is, he doesn't sell the puppies, who are also kept in poor and improper conditions, he gives them away. So he cannot be forced to get a commercial breeders license and follow the more stringent rules that are set up for commercial breeders. At most he could be classed as a backyard or hobby breeder for which there are no regulations.
Officials can cite him for having too many dogs in cages and severe neglect but they cannot do anything about his breeding and over breeding. Even with the stacks of citations against him, they are limited and since 2001 he has been cited again and again for everything from improper shelter, to animals running loose, to animals with severe untreated medical problems.
There is hope that after tomorrow that may be able to change that if the new proposed regulations are passed because Marinakis is on the top of the list.
Under the regulations being considered by commissioners Tuesday, all breeders would be forced to follow more-stringent requirements.

Backyard and hobby breeders would be required to obtain a permit from the county and would be prevented from breeding their animals more than twice a year.

Sauve said Marinakis would not qualify for the hobby permit because of the long list of complaints filed against him and the number of animals being kept and bred on his property.

To get a commercial breeder's license from the county, he would have to make significant changes to the property and "prove that he can follow all of the requirements," Sauve said.

If he did not get the permit, county officials could force him to spay and neuter his animals, or possibly could remove them from the property under new rules being weighed by the commission.

The proposed regulations, intended to reduce the number of unwanted pets killed at the county's animal shelter, also would require all pet owners to sterilize their animals unless they sign an affidavit agreeing not to breed them. They would be required to pay for a more expensive "unaltered" tag. (Palm Beach Post)
Opponents, such a dog breeders, fanciers and the AKC, aren't going to make it easy to get the new regulations passed. "They say the rules punish responsible pet owners and will only encourage residents not to license their pets. In newspaper advertisements, several groups are urging residents to call and write commissioners in opposition."
That Marinakis doesn't care about the dogs on his property is evident. One of his workers had to take a dog to the vet that was in extreme shape. When the hospital called, Marinakis refused to pay for treatment and told the to "throw the dog somewhere." The dog, only a year old, had to be euthanized.
"It shows us how, in some of these situations, with some breeders, these animals are not viewed as living beings worthy of care and respect," Sauve said. "They are simply viewed as a property or commodity.
Official Animal Control Visits

Animal control officers have visited James Marinakis' farm west of Boca Raton more than a dozen times since 2001 to investigate complaints and check the condition of his animals. They have seized five dogs and a horse. Last month, Marinakis let officers take another 29 dogs after reaching a settlement in a case filed against him. Here is a chronology of the visits, based on animal care and control records:

May 29, 2001: Marinakis is issued three citations for failing to provide shelter for his animals, not licensing his dogs, and failing to provide veterinary care.

July 17, 2002: While investigating a dog bite on the property, animal control officers find a horse that was not putting any weight on a rear leg.

March 10, 2004: While responding to a complaint, animal control officers find a horse with a large hematoma. Many dogs had scars, and some exotic birds had wounds.

March 12, 2004: Nine of Marinakis' horses are found running loose. When he provided identification to reclaim the animals, he was arrested on an outstanding warrant for driving on a suspended or revoked license.

March 18, 2004: Marinakis is cited for not providing medical attention to one of his dogs. The female, Snowflake, had multiple wounds on her head.

May 5, 2004: A neighbor complains that four of Marinakis' horses are running loose.

Oct. 13, 2004: Animal control officers seize a mare, Mystic, and a female dog, Roxy. The mare is severely underweight. The dog has a cantaloupe-sized tumor on a rear leg. A case is filed against Marinakis in civil court. He eventually reaches a settlement with animal control and agrees to pay $1,997 and allow officers to inspect the property when a complaint is received.

Dec. 30, 2004: Animal control officers find a horse with lacerations on Marinakis' property. The horse has a very large area of 'flesh that was oozing yellow liquid' and appears to be 'very sore.'

May 25, 2006: Animal control officers say none of the horse stalls on Marinakis' property provide adequate protection from the sun. Some of the 35 horses do not have water; others have dirty water.

May 2006: Marinakis pleads guilty to charges of animal cruelty and animal abandonment. He is ordered to pay $243 in court costs and $684 in restitution to animal control.

Sept. 20, 2007: Animal control officials try to seize three dogs and a horse from Marinakis' property. He lets them take only the dogs, which include a female with an injured rear leg, a female with the eye condition conjunctivitis and a swollen front leg, and an underweight female with a severe skin condition and raw, swollen paws.

Sept. 27: Boca Greens Animal Hospital asks animal control officials to pick up one of Marinakis' dogs. The 1-year-old Shar-Pei mix's right eyeball is protruding from its socket, and it has a skin condition over its entire body. Marinakis refuses to pay for veterinary care. The dog is euthanized.

Jan. 7: Marinakis agrees to turn over 29 dogs to animal control officials. Most of the dogs have ingrown eyelashes, severe skin conditions and cherry eye, a painful form of conjunctivitis. He is allowed to keep up to 55 dogs.(Palm Beach Post)
The 'man' has no business having the right to have any animals. He treats them less than living creatures. I cannot even begin to describe what I'd like to see happen to him… well, yes I can but….. you can use your imagination and it's not pretty!!
Email This Post
Like this post? Subscribe to my RSS feed and get loads more!