Hero Dog Gives Life for Owner
Tuesday, June 24th, 2008 at 7:56 am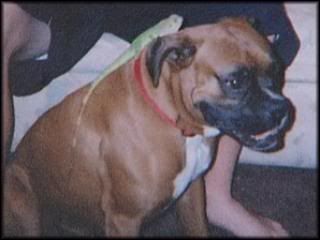 Yesterday morning two men kicked down 40 yr old Cathie Coluzzi's front door to her Hudson, FL home. The stole $130 in cash from her purse then started shooting her.
"They started shooting me with a pellet gun," Cathie Coluzzi said. "The guy tried to grab the phone out of my hand and the dog started biting him."
Her faithful dog, Baxter, a 8 year old Boxer jumped into the fray, biting the men and chasing them, saving her life but sadly he lost his own. One of the men turned around and shot Baxter between the shoulder blade. The injury was so grievous that her had to be put to sleep.
And Cathie says this is not the first time that Baxter saved her life. In 2007 her space heater failed and the temperature dropped to 30 degrees. Baxter climbed on top of her and wouldn't let he sleep. She called one of her sons to take her to the hospital. Without Baxter's help she may have died of hypothermia.
"I loved that dog just like I love these kids," Coluzzi said, pointing to her two sons, Coty, 20, and Kyle, 19. "I'm not kidding one bit."
"He was my personal protector," said Coluzzi, who was treated for her wounds at a local hospital. "This dog was the best dog I have ever known."
Coluzzi says the wounds she suffered from being shot in the leg are nothing compared to the hole in her heart from losing her dog.

"He was my best friend, and he wasn't just a dog, he was a family member. He was like another son to me."

Coluzzi does not feel like the attack was random. In fact, she believes she met up with the suspects just a few days earlier. Last week, she says she stopped some teens that were going through her neighbors tools. "I'm 99% sure they were the same guys because they had on hooded sweatshirts and they had it tied real tight and all you could see were their eyes," she said.

Coluzzi's neighbors, Wanda Chapman and Pete Paollili, live directly across the street and say they can hardly believe what's happened. Chapman says she kept Baxter for two months for Coluzzi. She says he was a good dog and was well trained.

She said, "When it's close to home it really makes you really nervous."

Paollili owns five pit bulls and said, "It's pretty scary, even with me having the dogs that I have, it still could have happened to me."

There have been no arrests in the case yet. Cathie says she had a hard time getting a good description of the suspects. They had on dark blue hooded sweatshirts and blue jeans but their faces were hidden because their hoods were pulled closely, covering most of their faces.

Meanwhile, Baxter's memory will live on through a litter of puppies that are due in a matter of days. Coluzzi says she'll get three of the puppies, one for herself and the other two for her sons. She says she's glad Baxter's blood line will live on. (Tampa Bay's 10)
We know that dogs are man's best friend and we also know that they can often be heroes in so many ways. Baxter paid the ultimate price to protect his beloved owner. Who knows what may have happened without his intervention? Rest in peace Baxter.
Email This Post
Like this post? Subscribe to my RSS feed and get loads more!